In 1978 NAD introduced the revolutionary 3020 integrated amplifier, one of the more famous and commercially successful amps ever. High End Munich 2013 marked NADs 40th birthday and saw the introduction of its modern descendant: the D 3020 hybrid digital amplifier.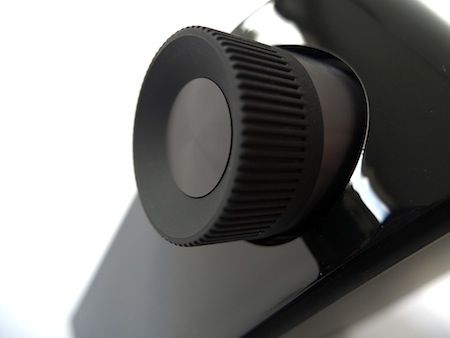 HiFi.nl is proud to be the first to review this new generation amp, which is why we chose to present our findings in English as well (Our Dutch readers can find the original review here). So without further ado, here's what we thought of NADs youngest, a digital amp that showed us a thing or two that was thought impossible from a 500 dollar piece of equipment.
Review: Eric van Spelde
Translation: HiFi.nl 
It appears to be a prime example of how not to compose a hi-fi audio set: a high quality digital source, a turntable combination with a top notch MC-element that channels its signal through a good step-up transformer and an amped-up tube phono preamp, a couple of horn loudspeakers in the price range of a full options mid-sized sedan, and in between the crucial amplification element that is… What exactly? A tiny desktop amp that measures approximately 2.5 by 7.5 by 8.5 inches, weighing roughly 4 lbs. But: it sounds awesome nonetheless. The tiny NAD D 3020 beats hifi laws as it goes, just as its illustrious predecessor (no "D", but with a phono preamp) did in 1978.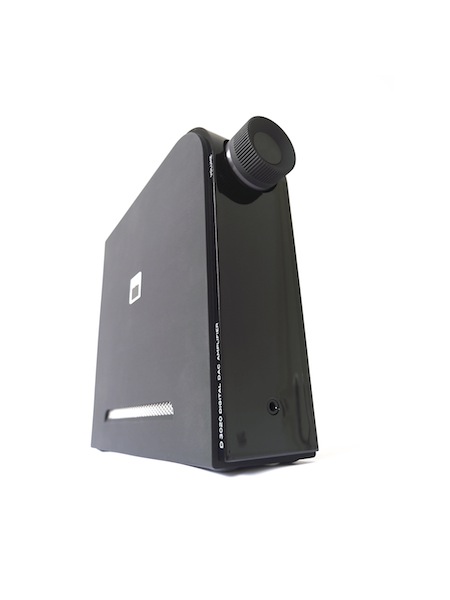 What exactly is the D 3020? Its manufacturer calls it a "hybrid digital amplifier", hybrid meaning that it is not a fully digital amp that converts an analog input signal into ones and zeroes, or that all the normal functions of a preamplifier are in the digital domain, as they are with digital NAD or Devialet amps in higher price ranges. Rather it's a combination of a D/A-converter with a Class D output stage, a design by Dutch electronics company Hypex. The output stages are discreet and – according to the manufacturer – completely insensitive to changes in loudspeaker impedance. Put differently, the sound doesn't follow changes in the loudspeaker impedance, and the amplifier has no fear of very low impedances.
The output impedance is also low as well as evenly divided over the entire frequency range. The supply circuit features the latest evolution in NAD's PowerDrive, a circuit that controls the output voltage by its actual load. PowerDrive can deliver high voltage levels for short power peaks, without kicking the device into (thermic) safety mode. NAD therefore claims that despite the low output levels of 2 x 30 Watt, the D 3020 has the potential to control "difficult" loudspeakers with relative ease.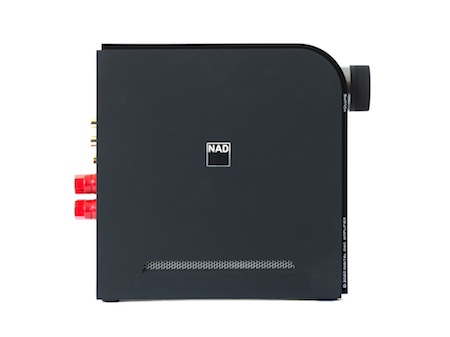 En route to the end stage, NAD uses a 24bit/196KHz eight channel D/A-converter that mixes its output to two channels. This should result in a higher resolution. Digital inputs aplenty: D 3020 counts one USB, one coaxial and two optical connectors, plus an option to wirelessly stream from a smartphone or tablet using Bluetooth. The USB port operates in asynchronous mode: driver software for computers and laptops is available for download from the NAD website and can be put to work to minimize inevitable jitter that generally comes along on these platforms, unless they are properly configured for hi-fi purposes by someone who knows what he's doing. Finally, and thankfully for people like myself, the little amp also has one analog output on board.
Armed with the general tech specs as laid out above, curiosity starts to develop towards what this gadget-sized, lightweight device, that seems to taunt the laws of hi-fi physics for amplifiers in both size and design, has to offer to the ear in the musical sense. What, no big toroidal transformers? A switched-mode power supply, really? No special damping feet? And a Mickey Mouse net entry instead of a solig IEC-connector, or even a shaver plug? Nothing gilded or gold-plated? Nah, this can't be good…