Mika is a brand expert in the audio market. So much so, that they have been launching .nl-websites for the renowned British brands they import for Dutch and Belgian audiophiles. Interested in Audiolab? Go to audiolabstore.nl. Want to know more about Mission? Check out missionhifi.nl. Leak or Wharfedale? No problem, just type leakstore.nl or wharfedale.eu into your browser and you're good to go. However, they are also a humble bunch. When asked about the latest developments from those very brands, they pointed us towards 'the real experts'; their colleagues at IAG in the UK.

Interview IAG
IAG or International Audio Group is a premier manufacturer of audio equipment for both domestic and professional use – including the four aforementioned Mika-distributed brands. We sat down with IAG's Jamie O'Callaghan (Global Sales & Marketing) and Peter Comeau (Director of Acoustic Design) to talk all about Audiolab, Mission, Leak and Wharfedale.
Since Jamie and Peter were so kind to host us in their offices in the UK – virtually, of course –, we'd be remiss not to publish the interview in English as well. You can find the Dutch version here.
Where to start when a company has such a broad – yet distinctively British – range of brands and products? Well, maybe right there: what are some of the biggest competitors in audio, and what sets the IAG-brands apart?
Number One competitor?
'Well, we can answer that in two ways', says Jamie: 'sales & marketing versus development. I'll defer to Peter for the latter, but as for marketing: I'd say we are our number one competitor. You see, we are a fully equipped, global organization. Thanks to our very balanced portfolio for both home and pro audio, we can develop and market pretty much anything our customers need. And because of the fact that we control all of over own production and development, our supply chain is less hindered than most other brands. It's in overcoming our own limitations where we see our biggest challenges.'
'Growth is a real issue. Peter and his team have developed some amazing products. Keeping up with existing demand on top of manufacturing – I'd say capacity is our biggest challenge now, matching demand with product.'
Wharfedale Linton Heritage (review (in Dutch) here)
'I'd like to echo a lot of what Jamie said', says Peter. 'What customers are looking for, today, is chiefly all in the direction of where we are taking our products. We are not looking at the competition, but at our own possibilities. To illustrate, the Wharfedale Linton Heritage came out of an experiment. When we introduced the Linton Heritage model, it came at a time when people were really looking for modern, space age kind of stuff in terms of the look and feel of a product – even though there are of course still a number of customers looking for the more classic designs. However, when we did the prototype, Sales said 'no – we can't possibly sell that!'. Yet is has been one of our biggest hits. In other words, you have to stay true to what you want to do, as a brand. For us, and particularly with speakers, that is delivering a product that makes music.'

Trends in hifi
'My personal opinion is that hi-fi in general has lost its way a bit', Peter goes on. Technology has become more important than musicality, in a way that we're seeing innovations without musical implications. Listen, I love smart speakers too, I have them in my kitchen – but in terms of hi-fi, there's a real fear amongst buyers of buying the wrong thing.'
'Also, the more affordable regions of hi-fi have become overly online oriented. "Send me the frequency response" is a real question we get, because technology and specs have become too important in comparing products. Consumers not using their own ears, but other criteria to choose. Isn't one of the great aspects about buying real hi-fi that you go out and visit a dealer and actually try things about before you buy them?'
'Sure, you can follow online reviews and media like HIFI.NL when you're trying to gather information on the components you're interested in. Just don't make any real decisions to buy them based on those reviews. Get your cd's and actually go out and listen.'

'In the 60s, LEAK came out with a new technology that reduced distortion to below 0.1 percent, which hadn't been done before. It was a nice step forward as well as a huge marketing aspect. However, nowadays brands and designers are still looking for the holy grail of zero distortion, as there is too much emphasis on specifications. Meanwhile, it has been proved over and over that it is very difficult – or even impossible – to actually hear distortion under 0.5 percent. Designers should be focused on musicality.'
Musicality first
'What sets IAG apart for me, to circle back to your question, is the fact that all of our engineers set out to develop products that make music, whatever the cost or the technological hurdles along the way. We all still aim for that same target, which over the years has worked really well for us. The Wharfedale Linton is decidedly not one of the world's most technologically advanced speakers – yet the response has been overwhelmingly positive.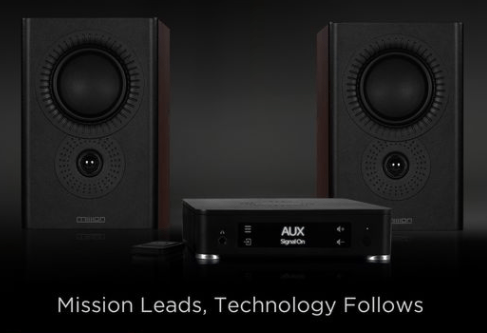 'Not following technology for technology's sake is literally where Mission's statement (or is that Mission's Mission Statement, ed.) came from', adds Jamie; "Music Leads – Technology Follows." That goes for our sales and marketing too. I have a background in sound engineering, and I agree: all development should focus on music first. Whatever the product. That's why we have Peter's golden ears, and that's why we focus on music before technology – that's how all products across our brands fit together.'
Active Vs. Passive
Of course, we need to talk about active speakers too – especially considering the launch of the Mission LX Connect. 'Yes, we are very proud of that', says Jamie. 'The LX Connect is a fantastic pair of self-powered speakers with a hub – as well as DAC and headphone amp – that easily matches with your computer to stream wirelessly. The hub can be placed locally to your source – such as a MacBook, or Raspberry Pi with Roon – whereas the speaker is just plugged into the wall, avoiding bandwith compromise. It bridges the gap between active, wireless desktop speakers and multimedia. It's our overlap: it facilitates the hifi user, the computer user, it is Roon Ready, has a 32-bit enabled DAC, a wealth of options…'
'Hi-fi has the connotation of being the traditional version of a stereo system', adds Peter. 'Thanks to the growing popularity of active speakers, especially the complete systems, there's a real opportunity to move away from traditional design. That's a big plus, as we see active speakers and intelligent all-in-one solutions as a multimedia solution more than a h-ifi solution, like Jamie said. We have a lot of traditional hi-fi customers who like the idea of buying separate components. They are reticent to making another move, to just having a pair of active speakers. Now we do have products that fit the active bill to have a solution there as well. From a design point of view, they are attractive. They may not satisfy the traditional audiophile, but I believe these types of designs are the way forward in bringing well-reproduced music into every home.'

Jamie: 'Most of our products overlap, by the way. The Wharfedale DX-2 just won a What Hi-fi Award. We are very conscience of that overlap. The LX Connect (picture above) is a multimedia solution that heavily relies on the LX MkII hi-fi speaker. We've now been able to produce wireless, which is all the rage – yet there are still restrictions, like Peter said, for traditional hi-fi consumers.'
Peter: 'First off all, it is much more difficult to engineer an active speaker crossover. It is relatively easy to achieve the musical performance in an old-school passive speaker. Sure, active has DSP, but you have to be careful. It's clear and detailed if you do it right, but ultimately it can sound clinical and boring if you get it wrong.'

Back to philosophy
'Secondly, there's the introduction of Class D amplifiers. Power saving and efficiency is good, but at the same time it has taken over thirty years to get to a stage where only the very best of Class D are competitive to the best A/B or the best valve tube amps. So, in my opinion, active is not going to overtake passive any time soon. Its place in multimedia is going to come faster than its place in hi-fi, in line with our philosophy.'
That philosophy, to reiterate: music first, technology second. Jamie: 'Take for instance the Audiolab 6000-series. We introduced the 6000 CDT at a time when not a lot of new cd transports were out there – yet we can't seem to build enough of them. It has quickly turned into an important part of the Audiolab family, like the famous M-DAC and M-DAC+.'
'A seminal product', says Peter. 'I joined IAG about eleven years ago and met this designer. who said 'listen to this' and set me down in front of a cd player. I was much more of a vinyl guy, although I do enjoy cd, but simply could not believe the sound that was coming from cd. It was the 8200CD, later superseded by the 8300CD, which then spawned the M-DAC, and I think that whole process –making dacs that are musical – is something uniquely suited to Audiolab. The first to completely break the mold in terms of digital versus analogue. We do integrate new technology, but always in service of music.'

Audiolab 6000A (review (in Dutch) here)
'Or what about the 6000A', Peter enthusiastically goes on. 'An unbelievable bargain, as it has music-making abilities far beyond its price. I believe it's overlooked by those in the market for a stereo amp on account of its specifications, just like we've discussed earlier. In reality, it has more than enough power for virtually any speaker. The best part? It never gets in the way of the music.'
Speaking of not getting in the way of things, what does IAG think about the various branding pages in the Dutch language, specifically for the local market? Is that a Dutch-only perk?

Support your locals
'Mika has great regional branding', says Jamie – 'which we fully support. We are a truly global brand, we have representation everywhere - Fiji, Suriname, you name it. English is our main language, of course – we put the Union Jack on everything, and it's all designed and engineered here, too. Having said that, it is great to have more local representation. Others are following (Australia, Germany, Asia). The way Mika handles the market and make our products available, great. It never ceases to amaze me – terrific, hard work.'
'So yeah, it definitely helps to have great representation for our products in local markets', Jamie concludes. 'I hope you can see we are not just a logo, or a marketable brand. There's real people behind the brands and the company, it's not marketing-lead at all. The British design and engineering are absolutely genuine. Moreover, in 2022, we will be returning to the UK for some of our production, so that's not a hollow statement. It's fundamentally British hifi.'