In recent years the Danish loudspeaker brand Davone has focused on developing a new line of active loudspeakers. These Davone DSP models are since early 2021 supplied in the Netherlands by the Dutch retailer Wifimedia. HIFI.NL paid the Wifimedia Experience Center a visit to experience these new additions to its broad and deep product portfolio. | Voor Nederlands, klik hier
Davone
Once there was a time when big, bulky and technical-looking speakers gave the impression that the owner was an audiophile with very good taste. These speakers were mostly angular, straightforward in design. Although some of these speakers sounded excellent, the majority produced an indeterminate kind of sound and were mainly built to show off. These were preferably large enough so that the full sound system could be placed on top of one of the speakers. Systems with lots of switches, regulators and indicator lights. The epitome of prosperity at the end of the 60s, 70s and the larger part of the 80s. Today, many design influences from the 50s, 60s and 70s are returning, but fortunately we are spared of the image just described.
Davone is one of the brands that brings back the design style of this era with a twist in its timeless speaker designs. Designs that have nothing angular about them and would certainly not be out of place in a minimalist living environment with designer furniture, sculptures and modern art. Obtrusive electronics have also long ceased to be a subject of pride and are preferably concealed, including the wiring these days. Custom install is developing faster than ever and many music enthusiasts are increasingly opting for active loudspeakers in which all the technology is concealed, such as Davone's DSP models.
A brief reacquaintance
It has been a few years since your author first came into contact with this unique Danish brand. Or should we say Dutch brand instead? Davone is in fact a Danish company founded by an exceptionally nice Dutch couple.
Nowadays, the audio landscape is flooded with many loudspeakers by many brands in the most creative shapes. Some of which sound pretty nice too. However, good-sounding loudspeaker models with cutting-edge technology in the designer segment were in short supply. Until Davone came along, that is.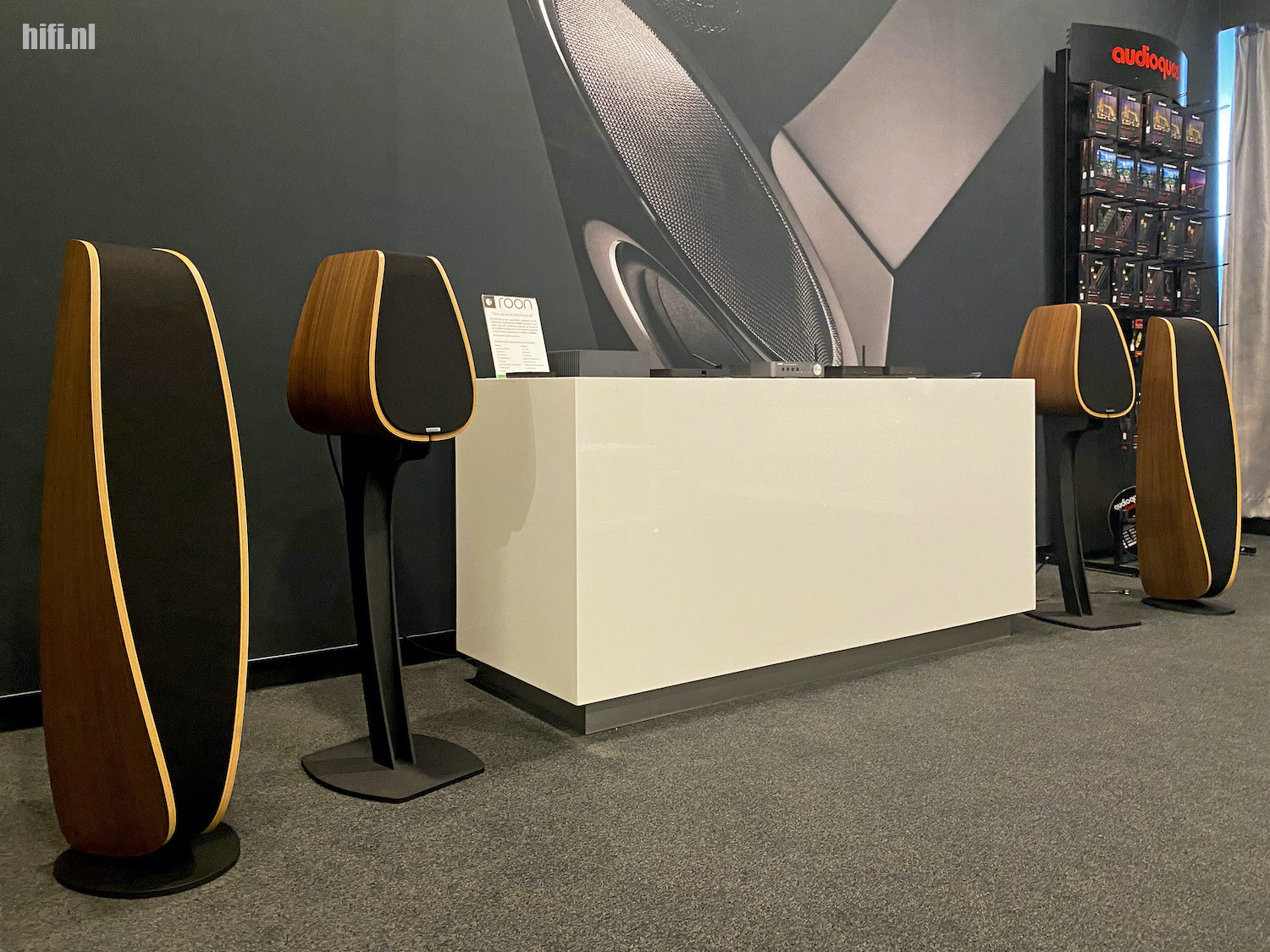 And what an astonishing selection of good sounding loudspeakers with cutting edge technology the company has produced to date. So subtle and femininely shaped, especially with the Twist and Studio models in mind. The Davone designs differ so much from the vast majority of traditionally designed loudspeakers and it seems they are styled by an artist rather than an acoustic engineer.
Pioneering with WiSA
In its DSP models Davone has opted for powerful energy-efficient Class D amplifiers and wireless connectivity based on WiSA . This high-res and low-latency wireless transmission standard, introduced in 2013,  doesn't make use of Wi-Fi or Bluetooth technology. This high-end and probably  the future wireless industry standard is already being used by Bang & Olufsen, Primare, System Audio, LG and many others. This means a premium LG OLED can be combined with B&O speakers and B&O TV's would works effortlessly with Davone DSP speakers through HDMI ARC and a WiSA SoundSend transmitter. A whole new market segment of interchangeable wireless solutions is thus being created by these innovative WiSA pioneers. For this reason alone we would give these Davone DSP loudspeakers a warm welcome.
The amplifier modules in Davone's DSP speakers are rather rudimentary and feature a  a mains connection, power switch and a setup button. Davone has equipped the amplifier modules with DSP technology to make placement of these speakers less complex. The setup button can be used to connect the speaker to a WiSA source and adjust the DSP characteristics per speaker to the chosen position. If you have a large floor area and can give the speakers some space to breath, you can easily adjust the DSP settings for the best performance in the room. If, on the other hand, you have limited floor space and the speakers are placed relatively close to the wall or in a corner, the speaker can be individually adjusted to its placement. In this way you will experience the best possible sound experience in every living room.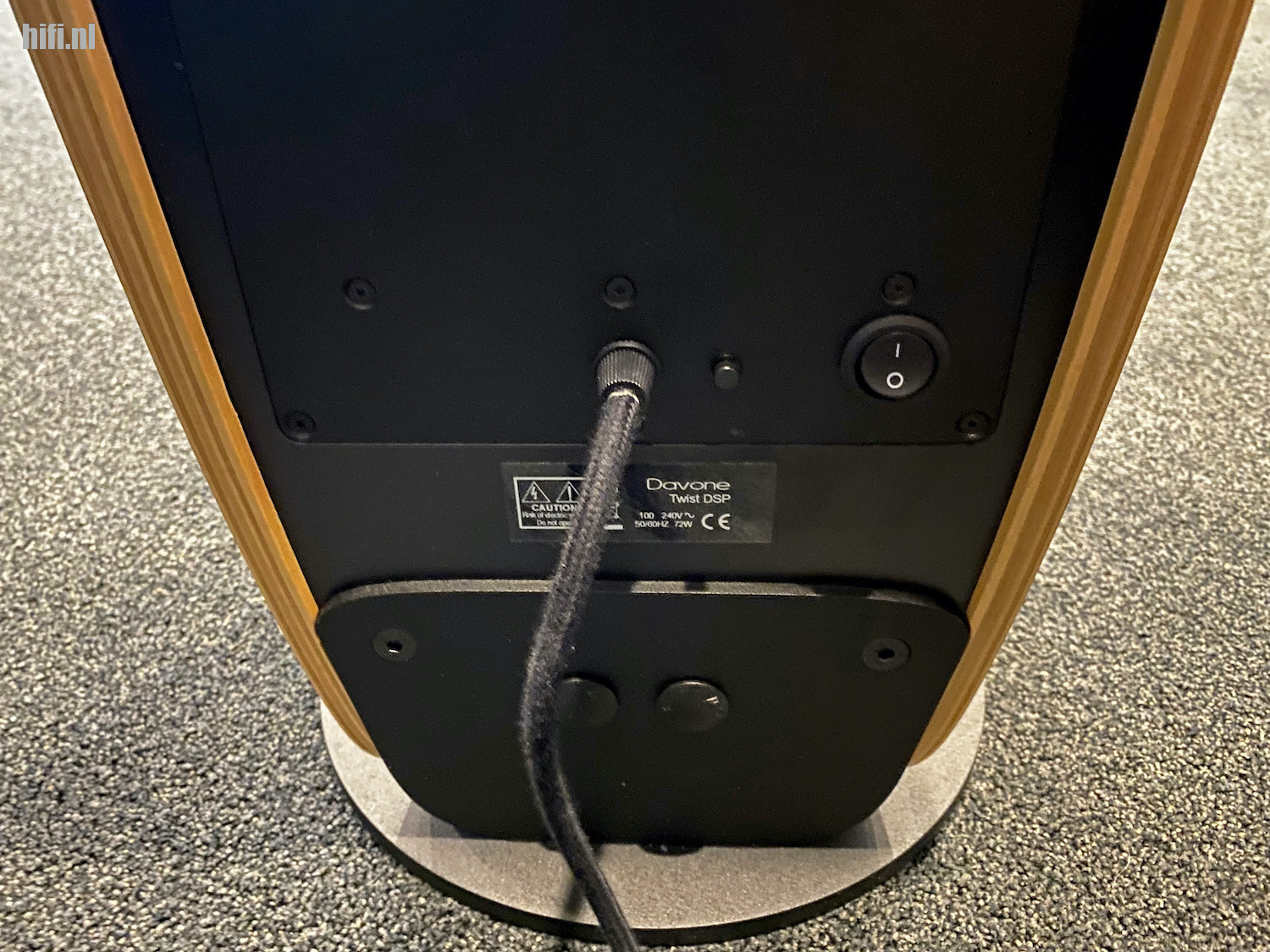 To be able to drive the Davone DSP models you need a source with an embedded WiSA module or a typical WiSA HUB. The WiSA HUBs provided by Davone enable you to connect analogue and digital sources like a cd-player or music streamer and with the supplied remote control this HUB can be operated as a fully-fledged pre-amplifier. There are various WiSA HUBs available, such as a PTX HUB, an HTX HUB and a SoundSend HUB.
Davone can supply any of these WiSA HUB as an optional extra. This makes Davone one of the few manufacturers to offer multiple WiSA HUB variants. Wifimedia, on the other hand, chooses to supply a PTX WiSA HUB free of charge with the purchase of a set of Davone Studio DSP or Twist DSP speakers. This means that, apart from premium quality cabling, you really don't need anything extra to play music from an analogue or digital music source or through your favorite music app on your smartphone.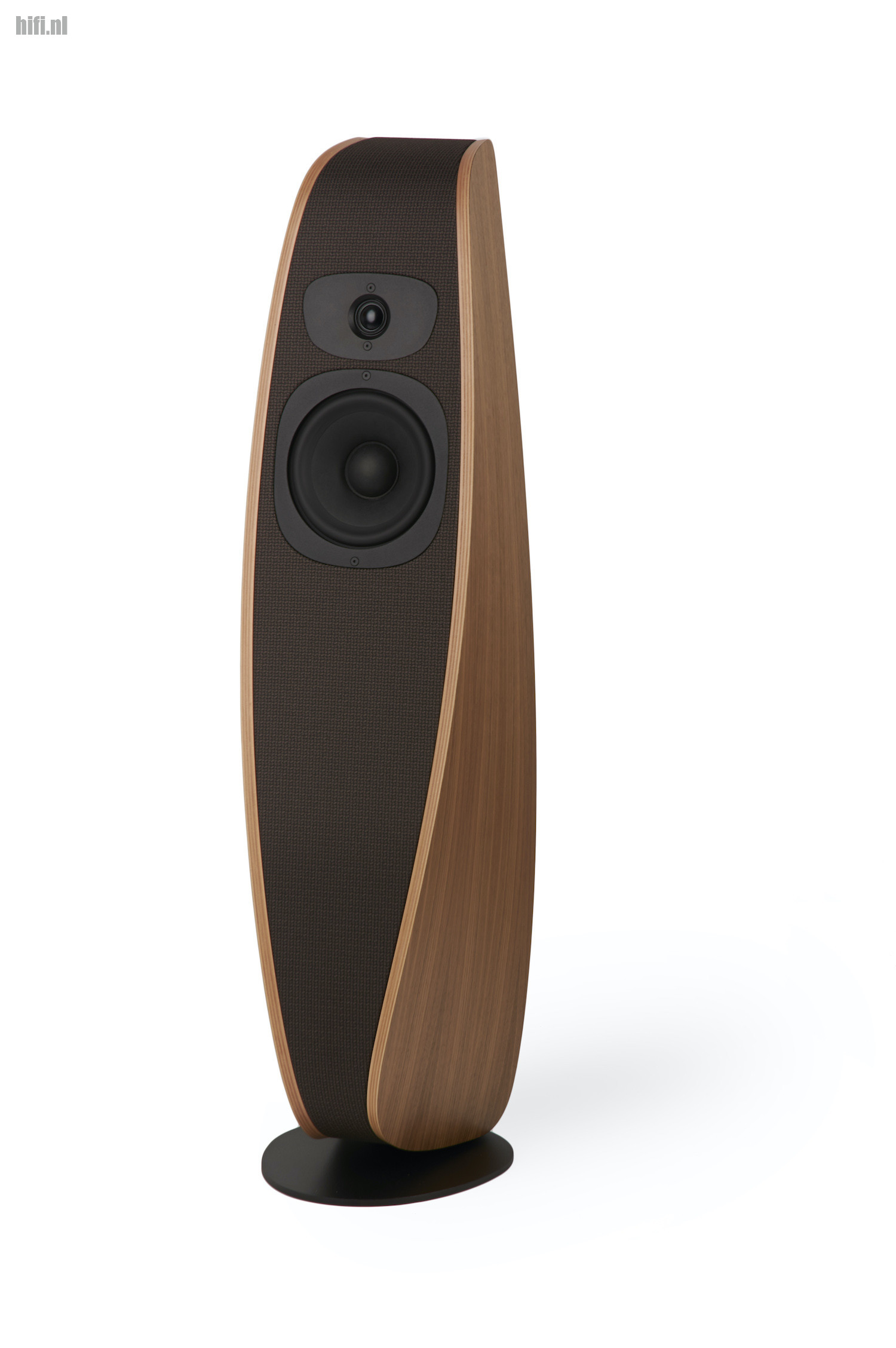 Listening impressions Twist and Studio DSP
The first sound impressions made us fall in love with these fine sounding and beautifully designed Davone Twist loudspeakers all over again. The sound quality of these compact floor standing loudspeakers is remarkably good. The sound balance is wonderfully  neutral and allows you to hear even the lowest octaves  in music. It is obvious  that Davone spent many hours of R&D to reach this level of sound quality. The musicality with which these loudspeakers play your favorite music albums is stunning. It's never overpowering. Instead it is open, subtle and refined. 
We find it even more important to mention the imaging qualities. These Davone Twist loudspeakers can produce, especially when placed correctly in the room, a most spacious sound in which the speakers disappear into the sound image. The sweet spot is quite wide, making these speakers perfect for use in living rooms.
The Davone Twist DSP features a single 7-inch woofer. Yet the load capacity of this compact floorstander is higher than we would initially expect. Where some manufacturers opt for two or sometimes even three compact woofers in a 2,5-way design, Davone prefers a single woofer in a typical 2-way design. Davone applies a premium quality driver instead of regular drivers applied by many of its competitors. Although we respect the choices and philosophies of each manufacturer, we ourselves rather prefer a single woofer design. Speakers that make use of a single woofer often sound much cleaner and reveal more in the lower and midrange area than speakers that use multiple woofers.
If you the Davone Twist is too large for your floorspace, or if you prefer a high-quality speaker with a more compact shape, you can also opt for the Studio DSP model. These gorgeous monitor loudspeakers can either be placed on a sideboard or in the room on its uniquely shaped floor stand. These stand mounted Studio DSP loudspeakers provide the impression of a modern interpretation of a tulip. This is really quite something.
Despite the fact that these Studio DSP loudspeakers have considerably less cabinet volume, the sound signature of the Studio comes pretty close to the Twist. The Studio also delivers a wonderfully spacious sound experience with an impressive bass. Despite the fact that the Studio does not deliver the same depth as the Twist, Davone has tuned the monitors in such a way that they get a slight push in the low end with which we instantly forget about the lack of sub-bass performance. In the Wifimedia experience center these speakers are positioned relatively far out in the room and nevertheless they deliver a grand and mature sound.

Verdict
If you ask us which speaker appeals to us most, we can't answer this directly. First of all, a type of sound is very much a matter of taste. Although both models sound incredibly good and both models have a similar signature sound, not everyone will pick the same speaker as their favorite.
We like the sound of the Twist DSP the most, because it has a deep and tightly controlled bass. We simply experience more music. With the Studio DSP we are most impressed by the openness and spaciousness with which these beautiful 'tulips' perform our music albums. When we purely look at the optics, we are most charmed by the beautiful Studio DSP speakers on its uniquely shaped stands. Nevertheless, the design of the Twist DSP absolutely appeals to us. Perhaps we can express our feelings better as follows: The Twist stole our hearts, but our hearts melted by the design of the beautiful Studio DSP.
There are, however, two minor comments to be made about both models.
At normal listening volumes you will probably never experience this, but the reflex ports can chuff slightly while playing dynamic soundtracks at high listening volumes. This is a characteristic inherent to a bass reflex design. With the Twist DSP, this typical chuffing is less audible, but it is present nonetheless. Is this bad? No. The tracks we used for this have been specifically selected for this and the volume which we play in the large listening room is well above average.
Both DSP models are equipped with a DSP module. This module contains two class D amplifiers and a WiSA module per channel. We would have liked to find analogue RCA or XLR connection to hook-up these speakers to our pre-amp in case we do not (yet) want to use WiSA. It would have been even better if there was a Toslink connection so we could drive the speakers with an optical cable and possibly loop them from left to right. However, Davone chooses to only support WiSA and with an eye to the future we respect this choice.

Final verdict
When we first got acquainted with the Davone Twist loudspeakers we were most impressed by its design and we were absolutely unprepared for the sound quality of these beautifully designed speakers. During recent listening sessions at Wifimedia, your author experienced something similar with Davone's compact Studio DSP speakers. These speakers deliver a great musical experience. With the Twist and Studio DSP Davone proves that speakers can have both a beautiful design and deliver a high end sound quality. Highly recommended.
Davone DSP Series
Rated 4.5 / 5