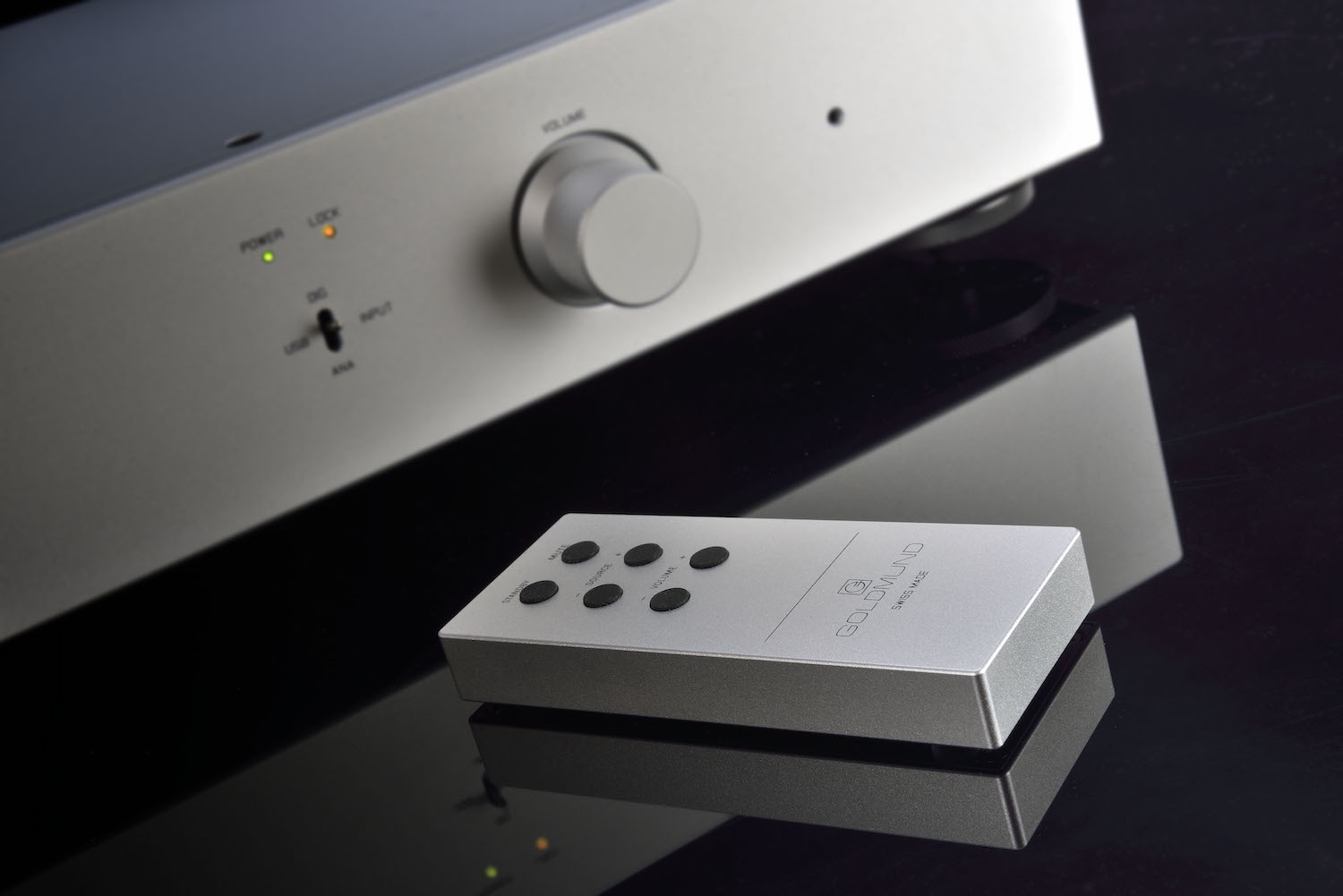 Goldmund has been developing audio products at the very highest level for over forty years now. In this constant quest for true-to-nature reproduction, the Swiss brand has built an extraordinarily strong reputation, which has been cemented by such mythical products as the Reference turntable, the Apologue loudspeakers or the Telos amplifier range. Following the impressive introduction of the remarkably high-performing Telos 590 NextGen amplifier a few years ago, I am delighted to share that this brand has been able to reduce the already far-reaching simplicity of that model to its true essence in the new Telos 7. The result is a beautiful and quite rare example of completely natural audio reproduction. | Klik hier voor de originele review in het Nederlands
Swiss Made
The reason that the Swiss audio brand is one of the few to have succeeded in this is because all of the Goldmund products lean heavily on the history and philosophy of the manufacturer. It all starts with the "Swiss Made" label and the high quality it represents, and the way of manufacturing for which the Swiss have been known for many years and which has consistently accompanied the brand throughout its corporate history. Because of that, the company was able to become a factor of significance for luxury audio and video systems worldwide. And even though they may be less well known outside the realm of traditional high-end audio, Goldmund offers proper solutions when it comes to sound reproduction for state-of-the-art home cinema systems as well!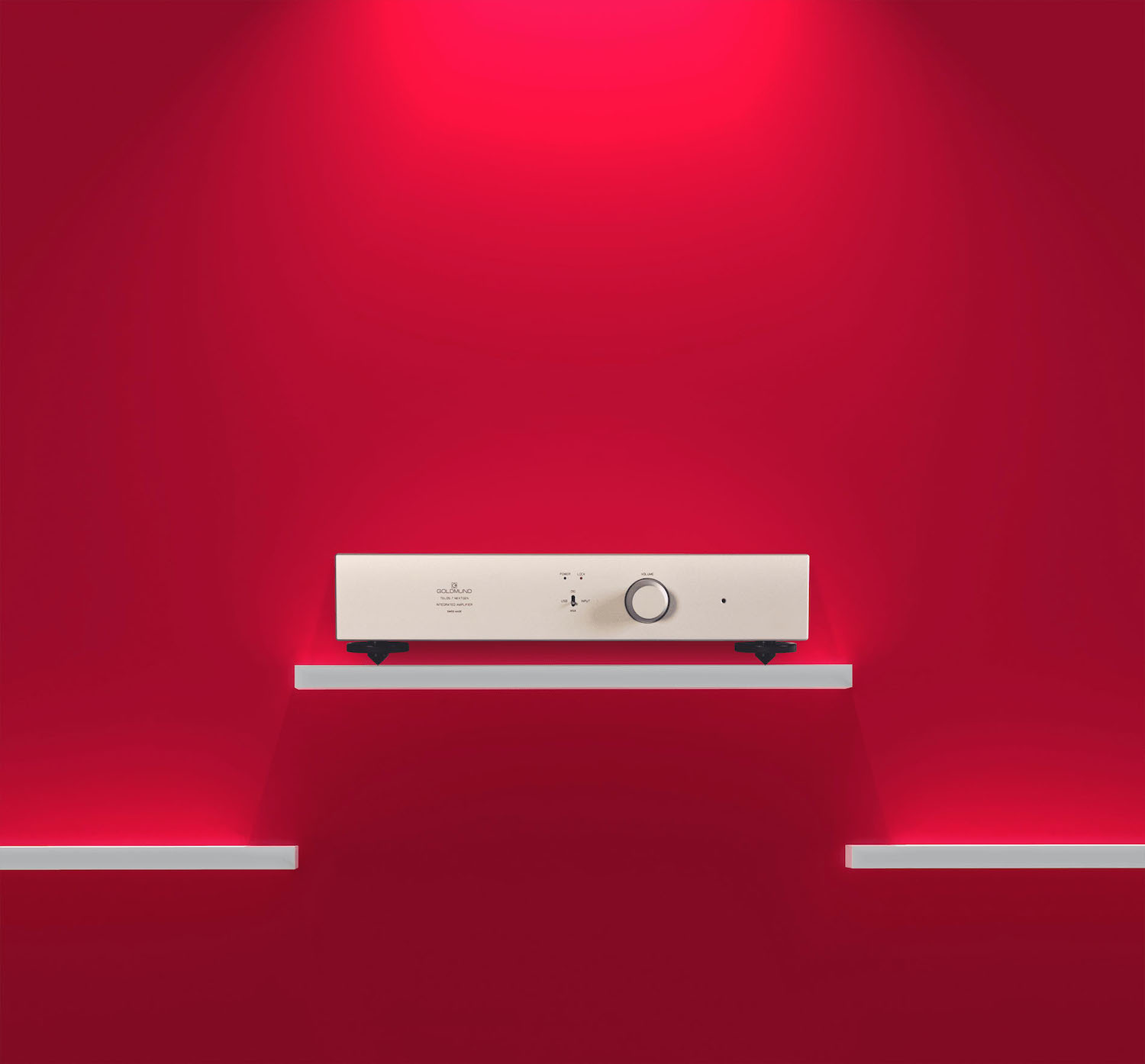 A second important pillar is the fact that Goldmund has been very strong in fundamental research for many years, often involving the development of new technologies from scratch in order to achieve the desired quality. In doing so, the brand has never followed existing trends, and existing technologies that have not sufficiently proven themselves have invariably been rejected. From the illustrious past to the promising present, the Goldmund name stands for uncompromising quality, complemented by an impeccable service.
Telos amplifier technology
Amplifier technology is a skill that has been deeply rooted in the foundation of this conservative yet remarkably progressive company since its early days. As a general rule, the more powerful an amplifier is, the more control it wields over your loudspeakers of choice. It should always be avoided that the latter should produce their own output or sound that has nothing to do with the music signal itself. This is especially true for low frequencies where speaker units tend to kick in (too) slowly and go on for too long after the audio signal has already ceased. By making use of Telos amplification technology, the developers at Goldmund have been able to significantly reduce this intermodulation distortion. In addition, the linearity of all amplification phases has been improved, and they have also succeeded in significantly reducing time distortion.
Based on the Goldmund Leonardo research programme, the Telos designs use a circuit with a higher bandwidth with minimal delay distortion within the audio bandwidth as a result.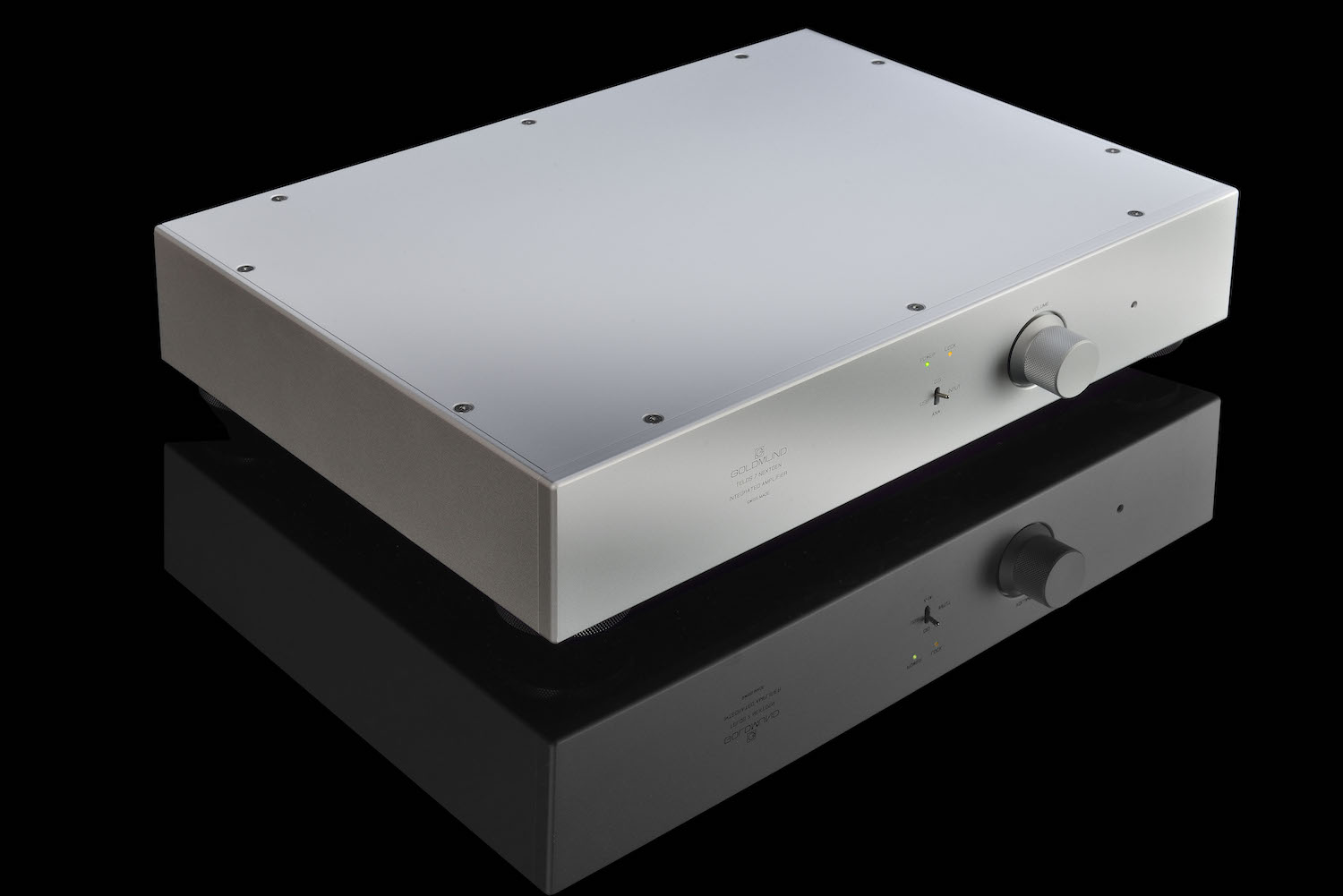 When we turn our attention to the input circuit, it now includes the latest version of the Goldmund Alize Digital / Analogue converter circuits. This improves the coupling with the pre-amplifier part and thus ensures an even more natural reproduction. Separate input and output stages prevent interference between high and low current circuits and improve mechanical grounding.
One of the most important sonic improvements of the new Telos NextGen circuit is the greatly increased control over the speaker units. This extra control is obtained by extremely lowering the output impedance of the amplifier. In addition, it offers a much higher quality of micro dynamic contrasts and even helps to keep (very) large woofers under control. Ultimately, the Telos circuit amplifies the audio signal with incomparable purity and transparency, regardless of the volume level and with a complete absence of unwanted distortion.
Telos 7 NextGen
Although the relatively friendly price tag would suggest otherwise, the Telos 7 NextGen is one of the most spectacular integrated stereo amplifiers currently produced by Goldmund. Despite its modal size, it is capable of driving any passive high-end stereo speaker system with ease. It offers audio reproduction that combines convincing transfer of energy, true spaciousness and clarity with a remarkably naturally detailed sound image.
The Telos 7 NextGen circuit is the latest improvement to this legendary circuit that has been going strong for 32 years(!) now. A fact that still makes many generations of music lovers consider Goldmund to be a true master of power amplifier design. Meanwhile, several generations of R&D developers have added new layers of subtle evolution, making it one of the longest continuity stories in the art of audio design.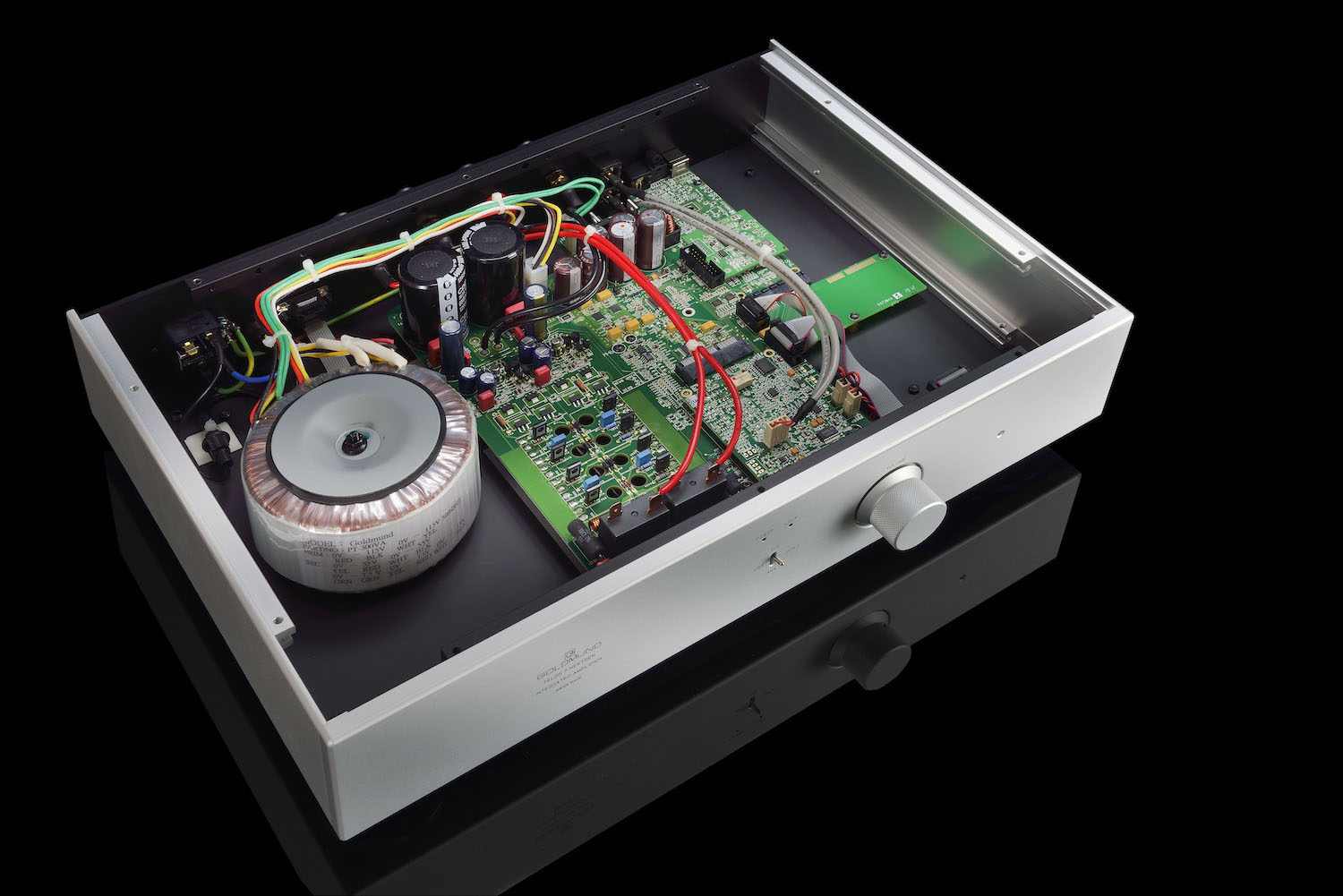 Despite the extremely simple user interface, it is still possible to connect a practical number of digital and analogue sources to this amplifier. A fact that makes listeners who especially like to enjoy their favourite music are not needlessly distracted by unnecessarily complicated technique and handling.
Looking at the Telos 7 NextGen in all its understated splendour, I thoroughly enjoy the tight lines and the immediately perceptible very high degree of finish. With its particularly refined and sophisticated visual appearance (both front and rear), the design exudes maximum quality without shouting it from the rooftops. Thanks to its dimensions (44 cm wide, 10.5 cm high and 36.5 cm deep), this is a tightly modelled device. A fact that its weight of only 10 kilos neatly confirms, almost suggesting that the might not be all that powerful. However, appearances can be deceiving, because the relatively compact Telos 7 NextGen produces a solid 2 x 175 Watt of power. Just as the case was with its big brother – the 590 NextGen, which even managed to drive extremely demanding loudspeakers such as the Magico Q5 –, expectations are high for the 7 NextGen. An exciting damping factor of 'only' 220 at 1 kHz at 8 Ohm shows that the concept of Telos amplifiers is very different from the majority of its competitors. It's a philosophy where audible results are more important than outcomes purely based on technical measuring.
Getting started
Arriving at the installation of the Telos 7 in your high-end system, one might frown at the sight of so few connection possibilities. On the other hand, you might feel elated –as I did– by the manufacturers comprehension of what makes for a proper integrated amp. Because there is a large group of A/V enthusiasts that view their audio system as something completely separate from their tv or home entertainment set-up. If you prefer just a few sources, the Goldmund is simply perfect. Why would you pay for features that you never use anyway? The simplicity of this amplifier, as the listening part further down will show as well, is its greatest strength.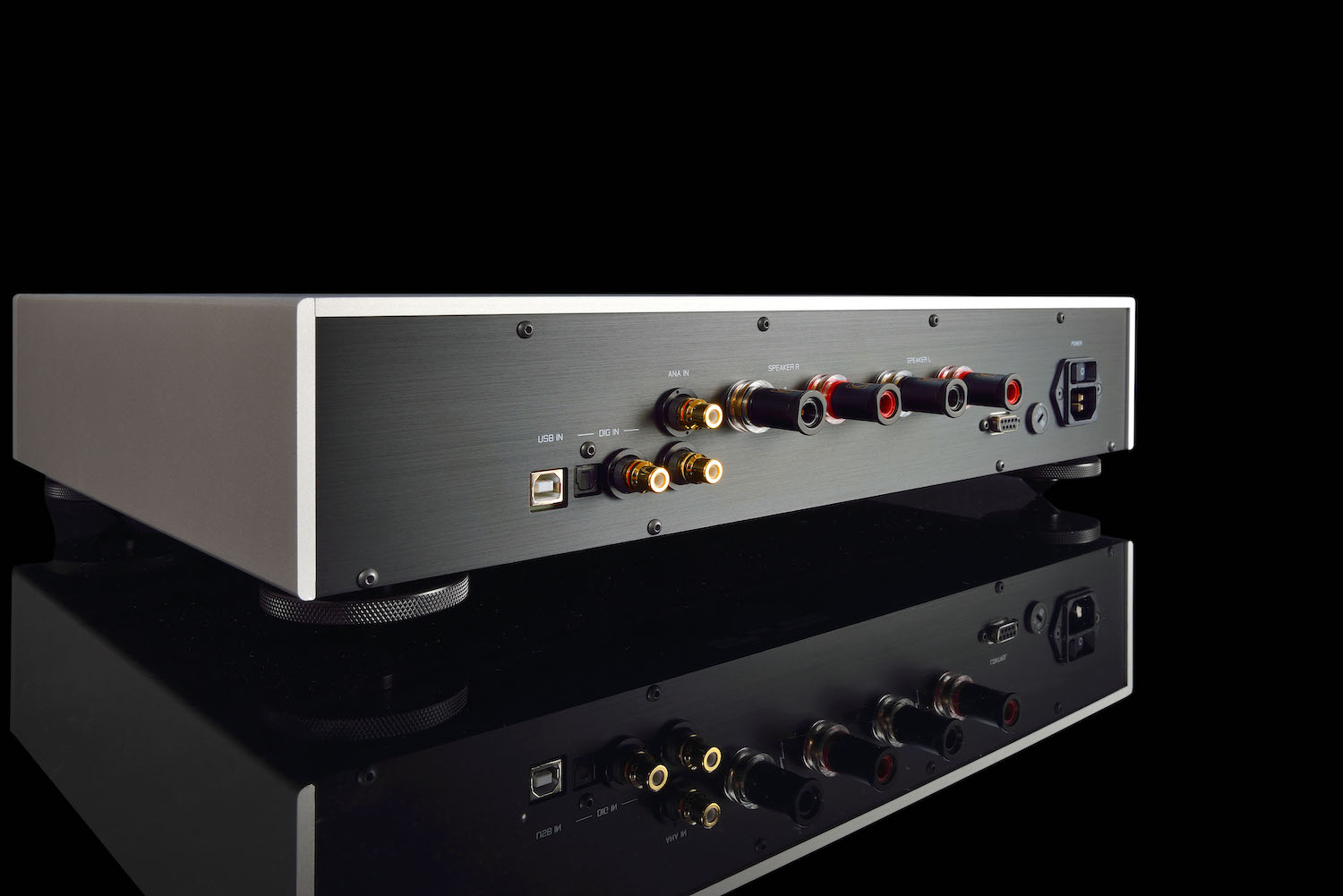 Now, in terms of what is and isn't there, what are we actually working with? Let's firstly check out the backside, where we find a single USB- and Toslink-input as well as a single S/PDIF unit. Moving on, there's only a single pair of analogue RCA inputs, a beautifully designed pair of Goldmund loudspeaker connectors that allows for all possible connections, and a power plug connection with main switch.
On the front of the Telos 7, only a small tilt switch is visible that can be used to switch between the different digital and analogue sources. A green LED for power and a yellow LED for 'locking-in' the digital signal complete the tasteful visual package, together with the very finely profiled solid aluminium volume control.
Finally, when I carefully remove the solid top plate, I notice not only the robust toroidal transformer, but also the deviating and remarkably compact circuit. Goldmund is just as mysterious a brand as Roll-Royce, which is to say the manufacturer is convinced its amplifiers are best experienced by just listening. A detailed 'translation' of all of its technical prowess does not enhance the pleasures derived from listening. What we do know, is that the DAC part can process up to 32 bit / 384 kHz of data via the UBS input and DSD signals can be processed as well.        
Preparations and reflections
The Goldmund Telos 7 amplifier is used with a wide array of different speakers and sources in order to provide as much useful information about its behaviour in different situations as possible. First up are the rather difficult to control Gauder DARC 60s, followed by the beautifully shaped Estelon YB speakers. Completing the shortlist are my own Master Contemporary C speakers with their high resolution and smooth overall characteristics.
In terms of sources, Aurender S10 and Mirror Image Wizzard streamers are used, while a Spectral SDR-4000 SV CD player and North Star Design 192 Mk2 CD transport take care of physical digital discs. Cables are a combination of AudioQuest, Siltech, Crystal Cable, Nirvana Audio, Kemp and Essential Audio Tools. Before I go in to the actual listening part of my review though, I would like to circle back to the introduction, where I stated that this Goldmund first and foremost offers an example of a completely natural reproduction of audio reality. I will try to explain its importance to our shared hobby.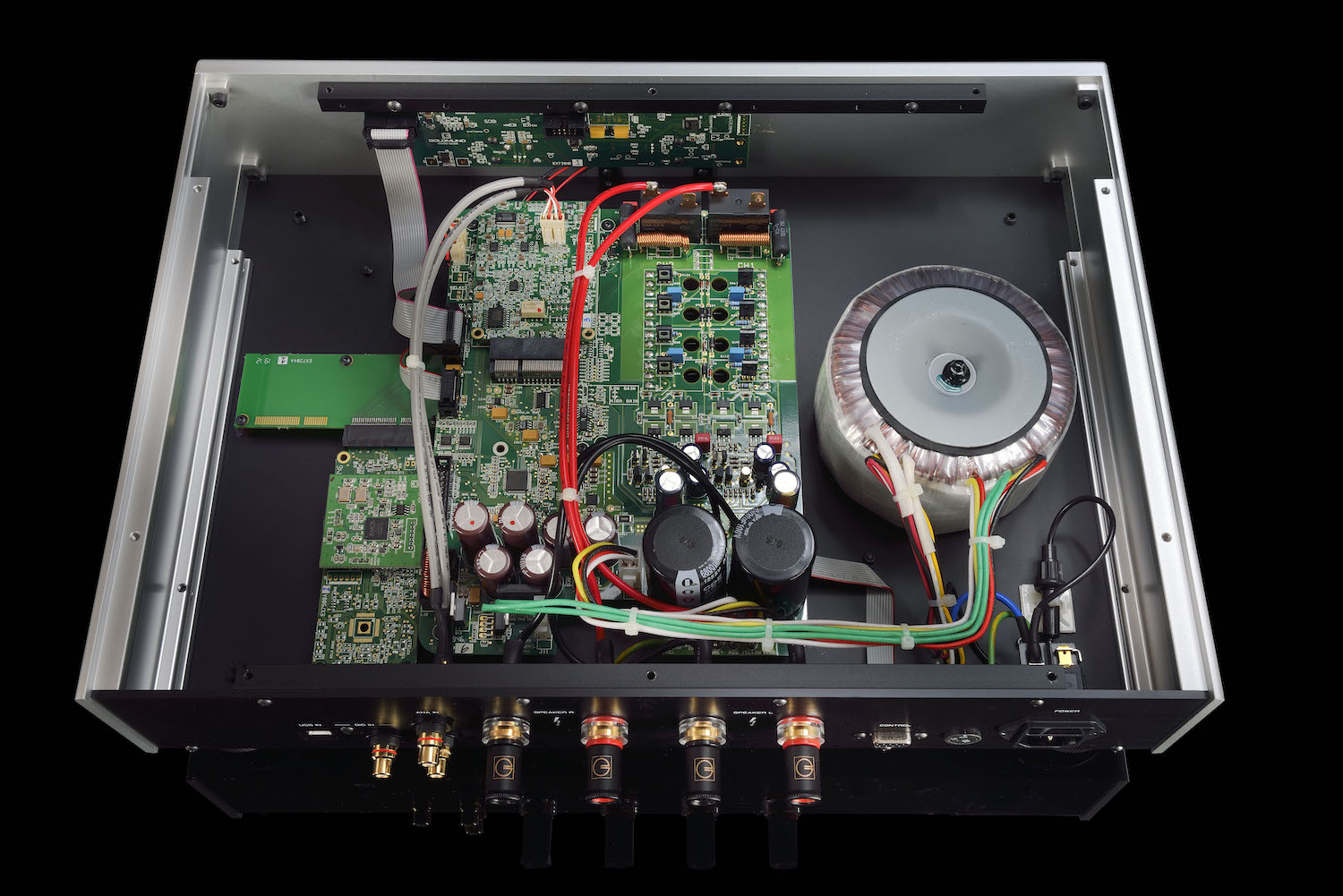 The ability to naturally reproduce reality is, in the case of an amplifier, the ability to express to the listener tonality, harmonic structure, focusing, 3D spatiality, dynamics and speed both accurately and in the right proportion. This not only creates a greater recognizability of the artists and the environment in which they perform, but also enables you to flawlessly recognize for example a Steinway concert grand piano, Selmer saxophone, Zildjian cymbals and Fender Jazz bass. The reason why I find the phenomenon of 'reality reproduction' so important, is not only that you can you get closer to the musical truth, but also closer to the artists intentions. It provides you with a certain peace of mind when your brain doesn't have to unconsciously make up information, resulting in a musical stage that is so credible and infectious that the gap with an actual live performance is lessened as much as possible. The Goldmund Telos 7 NextGen is, despite its relatively sharp price tag, able to do so.
Music!
It's a year-round coming and going of test products in my listening room that all play at different quality levels. It is all the more striking then that I immediately notice how well the Telos 7 NextGen performs, even in the very first hours. Prior to the arrival of the integrated amp from Switzerland, I have in recent months had my fair share of the finest amplifiers here, all kinds and all brands. Some were good or even rather beautiful, performing at high levels, but none did what this Goldmund does. The first words that come to mind have to do with communication and feeling, and – after a deeper analysis – a remarkably high degree of recognizability. There's this realization that the reproduction is so effortless, natural and self-evident, that it is close to what you would experience live.
Some other words that could accompany my praises are concepts such as weightless, extremely smooth and above all, largely free of reproduction artefacts. The icing on the cake is the fact that this all occurs immediately after switching the system on. There's simply no need for half an hour or so of patience before the performance opens up.
Also interesting is the comparison with the previously tested and more than twice as expensive Telos 590 NextGen, which is clearly more colourful and has more of a 'golden glow'. By this I mean that the 590 does add a certain sound of its own to the music. Which the 7 does not do, or to a lesser degree in any case. I experience the 7 to be more natural, purer and more communicative, despite its smaller price tags. It's a degree of interaction that is normally only reserved for top tube designs and in rare cases transistor designs.
For the sake of completeness and to restore the Goldmund ranking, a 590 NextGen II has now been released. A successor that I will welcome in my listening room later this year and will be happy to introduce to you again. Back to the Telos 7 now though.
Evoking emotions
When I start with the impressively vocal album What Was Said by pianist Tord Gustavsen, singers Simin Tander and drummer Jarle Vespestad on ECM 2465, I am immediately touched by both the tangible and the uninhibited. There's a penetrating acoustic waterfall of undisguised eloquence. With songs like I See You, Journey Of Life and I Refuse, the deeper musical message can be heard and felt right away. The beautifully organic and rich character of the ECM label remains completely intact and recognizable, but it is especially the very fine subtle low-level information embedded in a perfectly credible musical landscape that convinces enormously. Low, middle and high are all nearly flawless. Although there could be a little more power and authority in the lower regions, as well as more spread-out dynamic contrasts, it just doesn't matter here – and that has everything to do with the fact that the Telos 7 NextGen does something quite rare and remarkable…
Boy, I'm on thin ice now. Because talking about reality and the evoking of emotions is very vague, very personal and often difficult to illustrate. But what I mean is that the longer I use this Goldmund, the more music files I look for that have touched me emotionally now or in my past. For instance, I'm talking about Caverna Magica by Electro harpist Andreas Vollenweider, the album No Borders by Don Grusin, The Thom Rotella Band, the Irish singer Enya with her in my opinion best album Watermark, Café Blue by Patricia Barber and Friendschip by pianist Bert van den Brink and bassist Hein van der Geyn.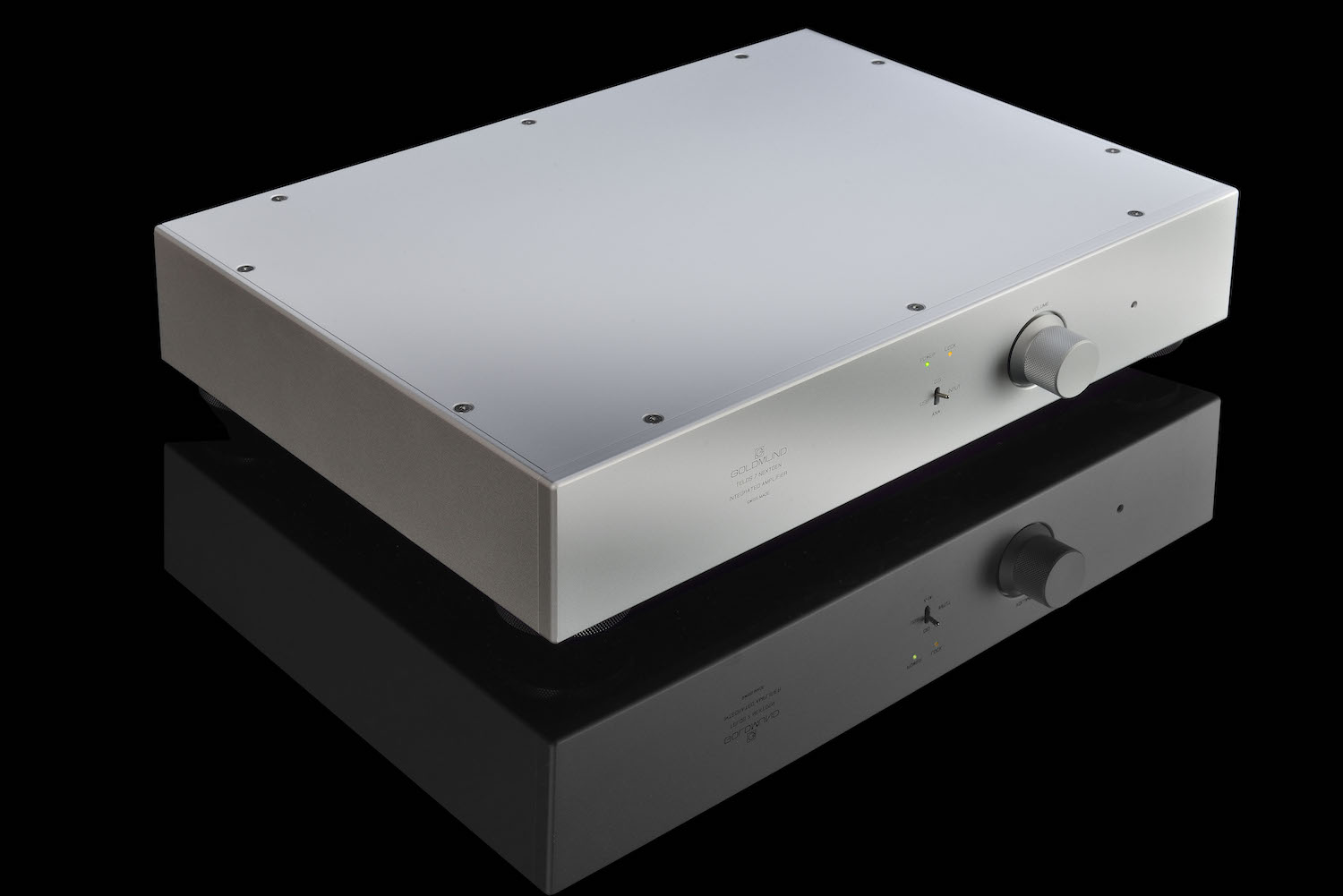 The list is far from complete, but they are all albums that have shaped me musically. And what I start to realize is that the Goldmund amp has this special gift to reveal the same emotions once more, all these emotions I used to feel with these older recordings. That seems simple enough, but rarely does it actually happen. With Andreas Vollenweider I go back into the imaginary cave and experience this musical adventure almost as if for the first time. With Don Grusin it splashes and swings, leaving the complex rhythm patterns and counter rhythms both unravelled and intact in a carelessly simple way. About the same happens when I listen to Thom Rotella, when I enjoy the clearly defined melodies full of audiophile fun. While Enya actually fills the listening room with the many layers of rich harmonizing keyboard sounds and her surrounding voice as only she can. Patricia Barber is one of my all-time favourites, while Bert van den Brink takes me back to the same energy and emotions from his live concert at the Bimhuis in Amsterdam.
What about the audiophile parameters? As I often experience with top products such as this one, the Goldmund Telos 7 has certain specific properties that allow for the loudspeakers to be the very centre in terms of energy transfer, while the rest serves a supplemental capacity. The stereo image has real height and a very natural and delicate character. There is never any glazing or detachment here and the recognizability of real instruments is simply very, very good. This is just a fantastic integrated amplifier that belongs to the very best in its price range, performing flawlessly both in terms of its built-in DAC and analogue inputs. 
Conclusion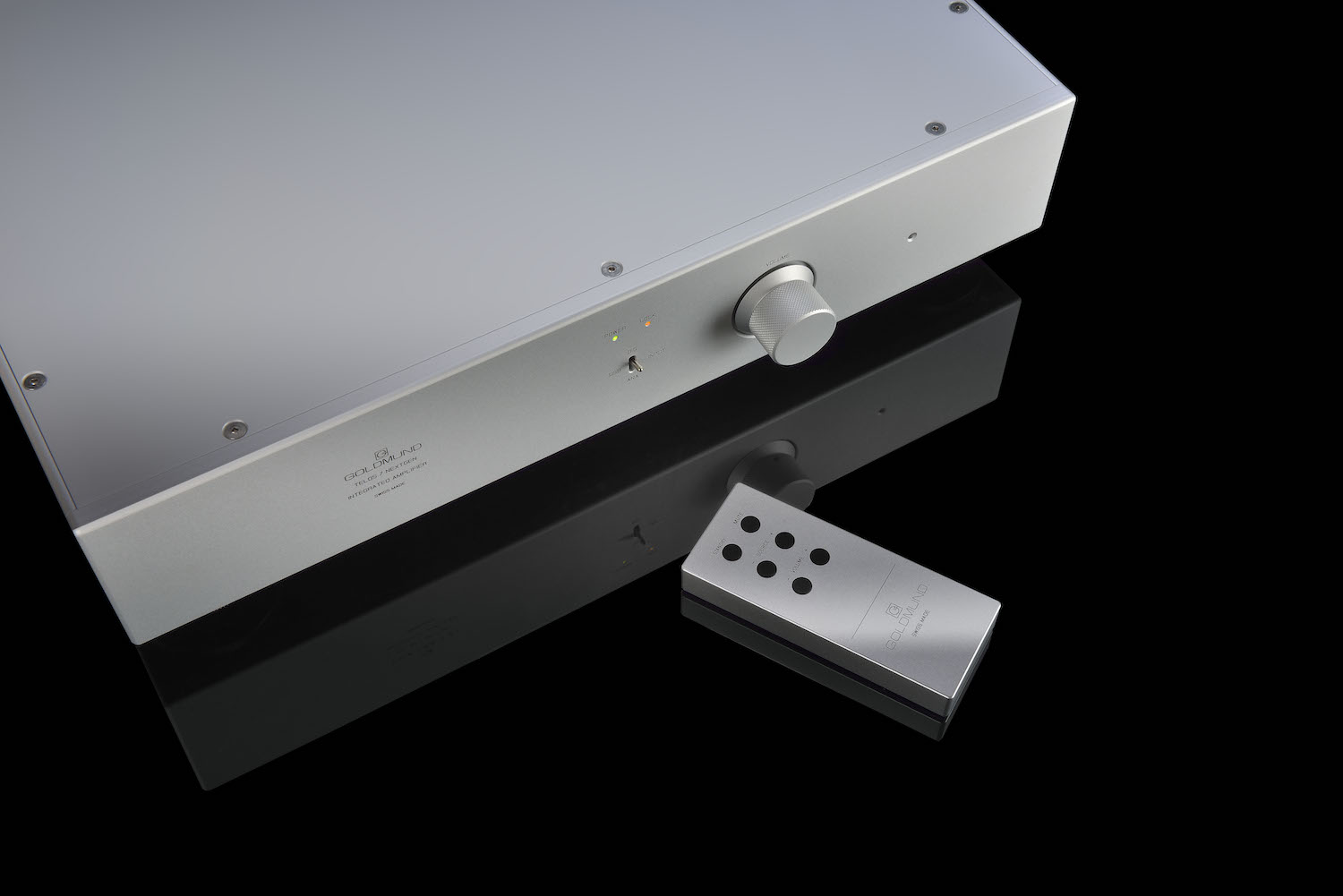 The fact that this brand-new Telos 7 NextGen integrated amplifier has a look and feel that perfectly matches all what the Goldmund pretends to be is remarkable. In other words, it's a very pure amplifier that has merely a few facilities when it comes to connection options, but that is exactly what makes it is so incredibly good! This is an amplifier that is 100 percent designed for the passionate music lover instead of for the often-favoured gadget freak.
Moreover, it is one of those rare transistor designs that will also charm tube lovers. It offers a representation that has nothing to do with the supposed warm sound balance or a smeared sound image of a bad tube design, but rather matches up with all the strong suits of a good one. In other words: musical realism and accuracy, naturalness and purity, and absence of artefacts. If you have been looking for these features for some time, now incorporated in a beautiful transistor design, then this is one of the very few real options.
Last but not least, the amp looks stunning in all its understated splendour, is rigorously assembled, can be remotely controlled with a solid remote control and is able to convey all of its qualities to the listener from a wide variety of different sources and speakers. Nothing but compliments and commendations to the Swiss manufacturer: the Goldmund Telos 7 NextGen is an absolute gem.
Goldmund Telos 7 NextGen
€ 11.500,- | www.puuravd.com | goldmund-benelux.com