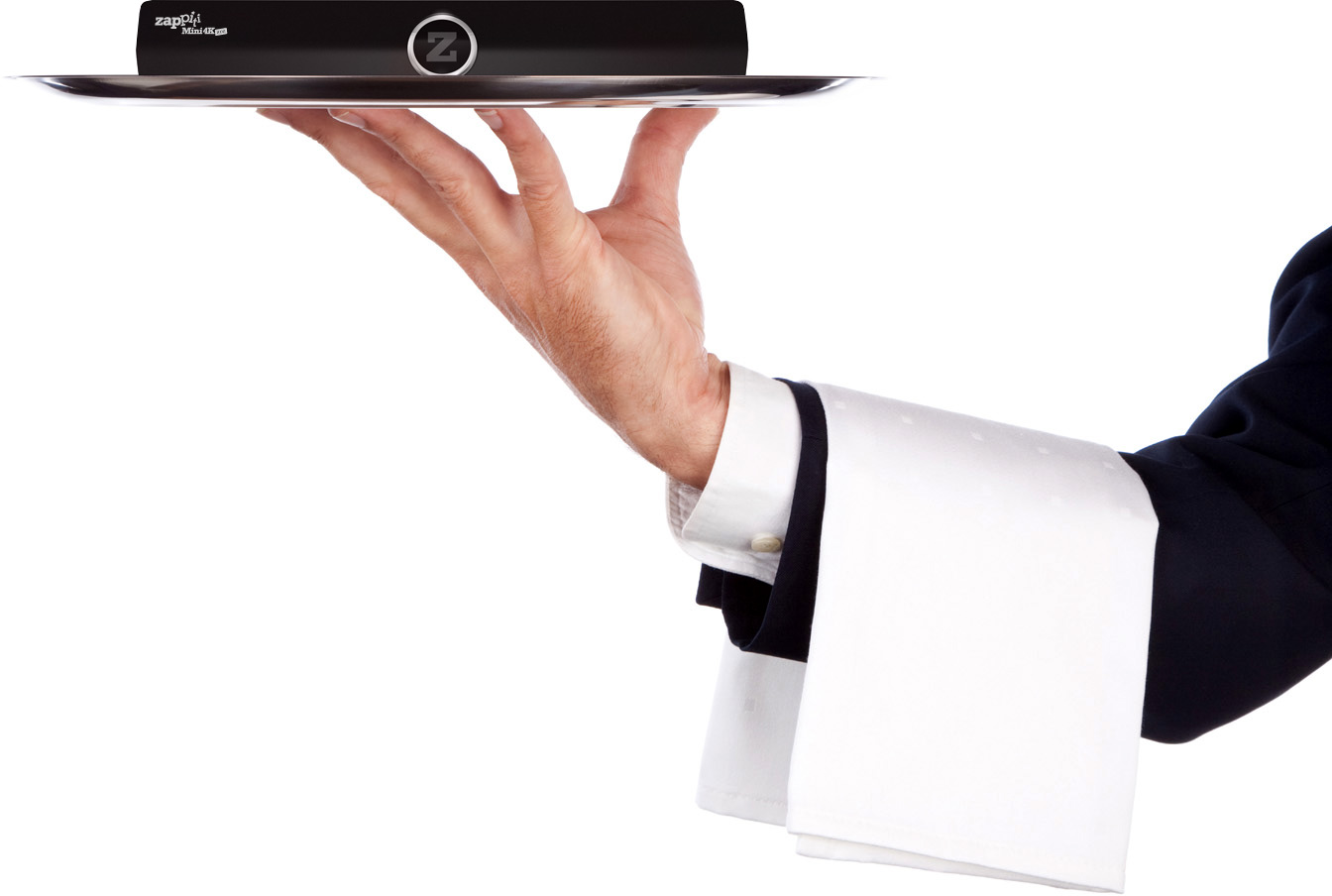 Zappiti-producten zijn ontworpen om een gemakkelijke en intuïtieve toegang te bieden tot je gehele filmbibliotheek – in een verbluffende 4K High Definition-resolutie. De alom bekroonde Zappiti-apparaten worden met succes gebruikt om de bioscoopervaring te verbeteren, zowel in een commerciële omgeving als bij de eindgebruiker thuis. Je eerste stap in die wereld? De Zappiti Mini!
Zappiti Mini 4K HDR mediaspeler
De Zappiti Player Mini 4K HDR mediaspeler is een nieuwe generatie multimediaspeler compatibel met HDMI 2.0, Ultra HD 4K en HDR met een echt ingebed Media Center, eenvoudig in gebruik en bijzonder compleet. De Zappiti Mini is uitgerust met een SATA-aansluiting voor een externe harde schijf (tot 8TB), een USB 3.0-poort en een SD-geheugenkaartsleuf.
Zappiti Mini: Key Features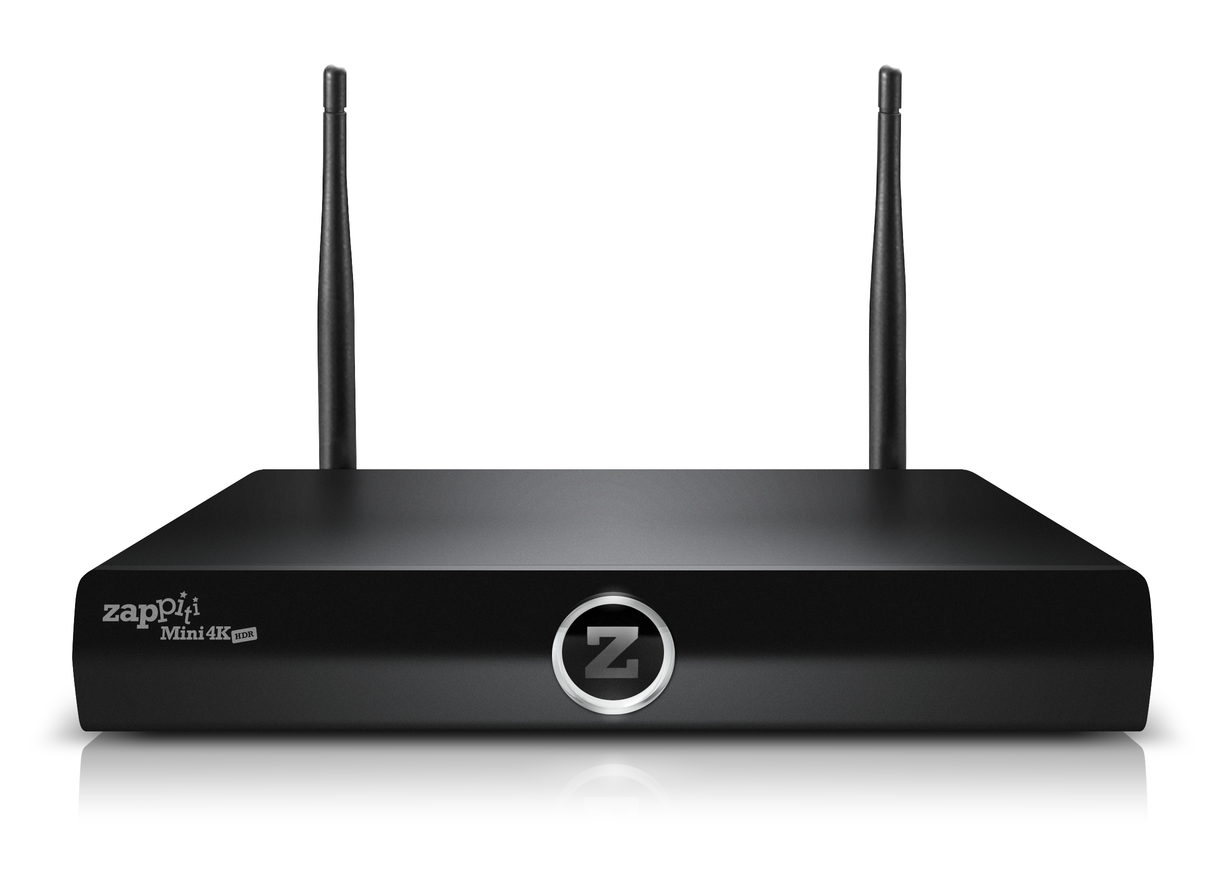 HDR: Display your HDR video content, while also providing increased dynamic range on your HDR display (TV/projector)
4K 50/60p

: Display your 4K 50p or 60p video content in 3840x2160p at 50 Hz or 60 Hz

MKV Player

: Playback SD, HD and UHD video content in MKV and other modern video file containers and formats, including top quality HEVC/H.265 video codec with very high bit-rates > 400 Mbp/s

Network Player

: Connect your Zappiti on your local network and enjoy your content from a PC/MAC or a NAS via SMB

BD / UHD ISO

: Display the DVD, Blu-ray and UHD menus and access to the additional contents, director's cut or theatrical version, bonus and extras, bookmarks, etc. with seamless branching support

Ports USB 3.0 and Type-C

: Read or copy your files in ultra high speed devices

Complete file management system

: copy, cut, past (multitasking), delete, rename

3D Video Support

: Enjoy all your 3D movies files (3D BD ISO, MKV 3D MVC) in true Full HD quality (Frame Packing) when linked up to any 3D-enabled TV or front projector for enhanced depth and improved on-screen image detail (two times better resolution than 3D Side-by-Side or Top-Bottom) with 3D subtitle support. Many 3D settings available including: 3D image depth, 3D subtitle depth, 3D interface depth, manual reversal of left-right images

Backlit Remote Control

: High quality remote control with many direct access and shortcuts with backlit buttons. Descrete codes for universal remote control and advanced functions to control the audio volume of your TV or AV receiver

SMB Server

: Access the contents located on the internal hard drive of the Zappiti Mini 4K HDR (or a connected hard drive) from a computer connected via local network

Playback memory

: Resume playback from the last position

Ports USB 3.0 and Type-C

: Read or copy your files in ultra high speed

SATA connector:

Easily and quickly connect external SATA HDD (up to 16 TB pre formated HDD)

Video Output Flexibility

: Output video in any resolution and format including SD, 1080p (1920x1080)

Full Range of A/V Connectors

: S/PDIF optical audio output, audio / video analog output (can be used as headphones output), HDMI 2.0a (Deep Color, xvYCC, 12 bits, and CEC)

Multichannel home cinema audio

: Bitstream up to 11.2.4, downmix stereo

Hi-Res Music Playback

: Playback Hi-Res Audio quality (up to 32-bit) music files in various formats (FLAC, AIFF, ALAC, WavPack, Monkey's Audio APE, DTS, AC3, etc),

Ultra HD

(3840x2160p) and true 4K (4096x2160p) up to 12-bit by primary color (36-bit)

Bluetooth 4.0

: Connect your wireless devices via Bluetooth such as joysticks, headphones, connected speakers

Zappiti Video Control

: Control your Zappiti player with the virtual remote control via your tablet or smartphone

Wi-Fi 5 Ghz with 2 antennas , play and transfer your movies over wireless network
Laat je e-mailadres achter en maak kans op de Zappiti Mini 4K HDR mediaspeler ter waarde van € 249.
*DEZE DAG-ACTIE IS INMIDDELS VERLOPEN, DE WINNAAR HEEFT BERICHT GEHAD.
Weggeefactie: hoe het werkt
Vanaf maandag 16 december vind je iedere dag tot ten minste de tweede week van januari op onze homepage een uitgelicht product dat je kunt winnen. Het énige wat je hoeft te doen om kans te maken op een van de vele prijzen, is bij het betreffende product je e-mailadres achterlaten. Je maakt daarbij dagelijks kans op iets nieuws (of vrijwel dagelijks, want sommige partijen doen meerdere dagen mee) en kunt je op ieder item inschrijven.