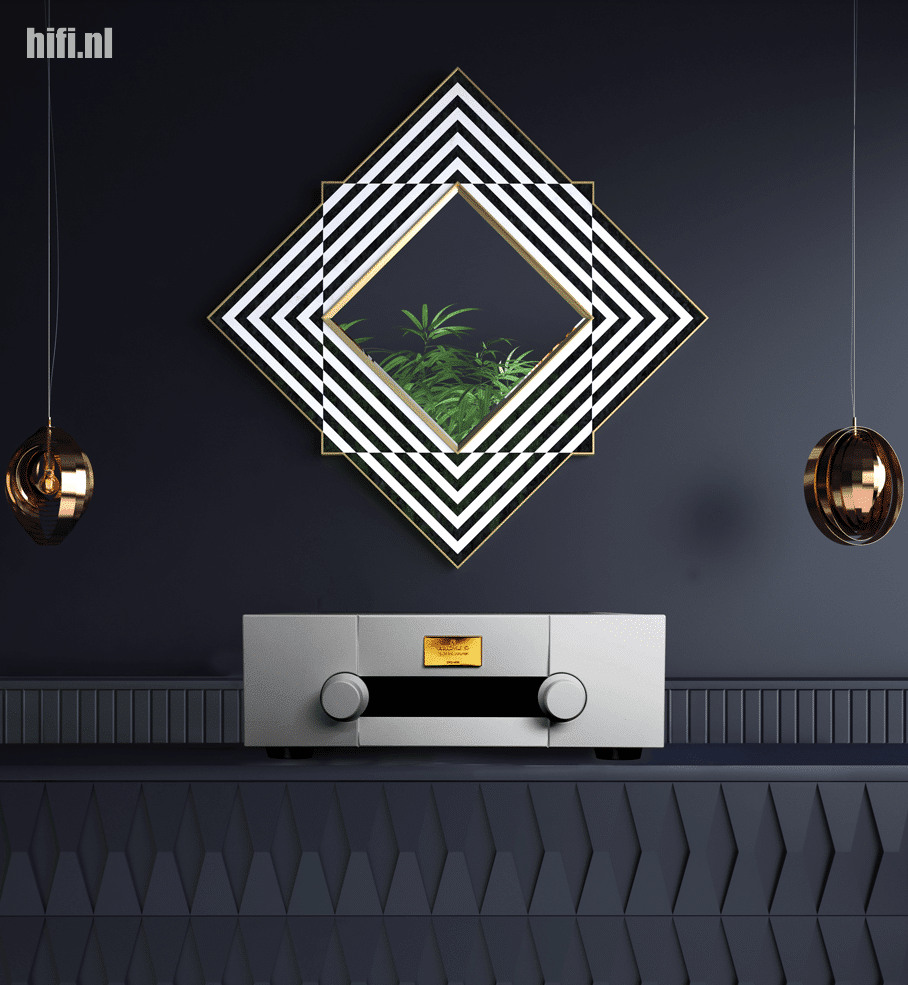 Thanks to the recent introduction of the high performing (and much less expensive) Goldmund Telos 7 integrated amplifier and the further development at the Swiss headquarters, it is now apparantly even possible to further improve the Telos 590 NextGen as well. In this review we will go a little deeper into that, because the '590 MkII' is an amplifier you should experience at least once. | Deze recensie in het Nederlands? Klik hier.
Enchanting reproduction
The legendary products made by Goldmund prove to me that impressions can change or indeed evolve. Just a few years ago, I only knew the illustrious brand from Switzerland indirectly, through the experiences of others. A situation that fortunately changed during a demo of the fully active Goldmund Satya loudspeakers in 2018 at PUURavd in Oostzaan. What a technological know-how, design and inspiring musical reproduction!
After that first impression with the powerful Satya's, the top model Telos 590 NextGen integrated amplifier followed suit. Not just any amplifier, but one that, to my surprise, managed to convey many of the beautiful, typical Goldmond characteristics even when using other speaker brands. With the recent introduction of the remarkably high-performing – and rather less expensive – Telos 7 integrated amplifier and the Goldmund developments that followed, it soon turned out that it was possible to further enhance the Telos 590 NextGen as well. Meet the Mk II, an integrated amp everyone should experience at least once.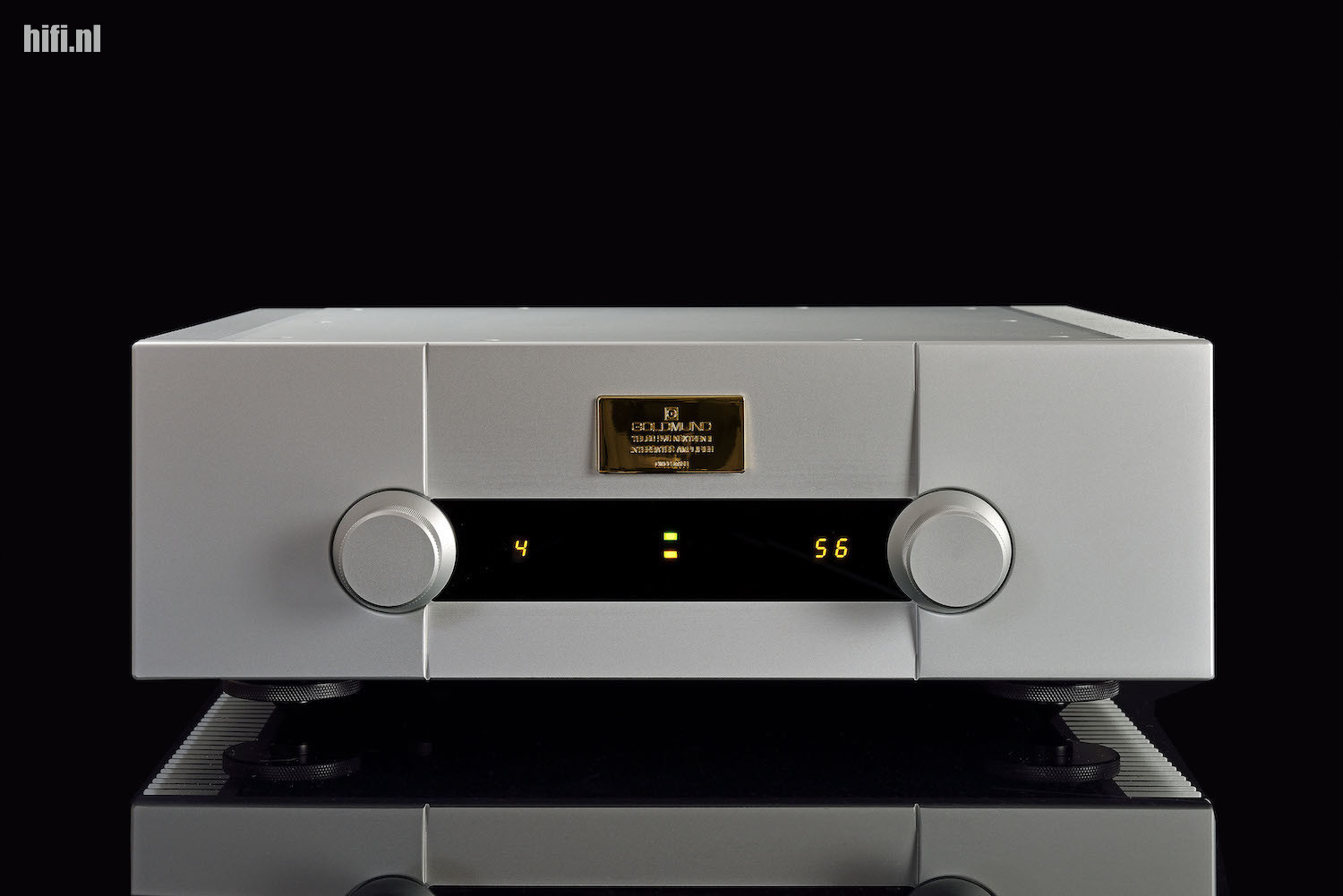 The different way of thinking and working of the Swiss top brand seems clearly expressed to me when Robert Brijde of PUURavd brings me 'his' brand new Telos 590 NextGen II on a beautiful summer day. After the perfectly honest minimalistic little brother, the Telos 7, it is quite evident that the manufacturer aims a number of steps higher on the audio ladder with this larger top model. It starts with the beautifully finished exterior and body, which at 44 cm wide, 41 cm deep and 16.3 cm high is not only a lot bigger, but at 20 kg also exactly twice as heavy.

At the same time it should also be noted that this Mk II version is visually very similar to its predecessor. Is that a bad thing? Not really, especially when it comes to a manufacturer as focused as Goldmund. We've become used to the fact that it's mainly performance enhancements that are implemented, as 'meaningless' cosmetic alterations are usually omitted. As a result, the only two external features that reveal this is indeed the new model are the now integrated mains switch in the mains entrance and two pairs of newly-designed speaker connections. As far as the latter is concerned, these are connectors that are not only considerably larger, but also made of better materials and can handle more types of cables and connectors at the customer's request.  

Entirely unique approach
Before I delve into the various internal changes, it is important to first consider the design parameters that make this precious integrated amplifier so special and distinctive. A first hint is given when I remove the solid top panel. There I find two 300 VA toroidal transformers surrounded by a series of smaller circuit boards with many components in SMD technology. Still, this time output at 4 ohms does not appear to be doubled, which is also shown by the specified wattage of 2 x 215 watts at 8 ohms 2 x 280 watts at 4 ohms. Reason for this unorthodox way of thinking is that Goldmund has been striving for high speed designs since the start in 1978. The 590 NextGen II is very consciously equipped with only four closely spaced Mosfet power transistors per channel. Components that together with the rest of the chosen circuit ensure lower smearing, smaller phase and time errors and the intended very high speed of rendition.
An important additional design parameter can be discovered in the sonic improvements brought about by the latest generation of the Telos NextGen circuit. It not only manifests itself in greatly increased control over the speaker units, but also offers much higher quality in the microdynamic contrasts.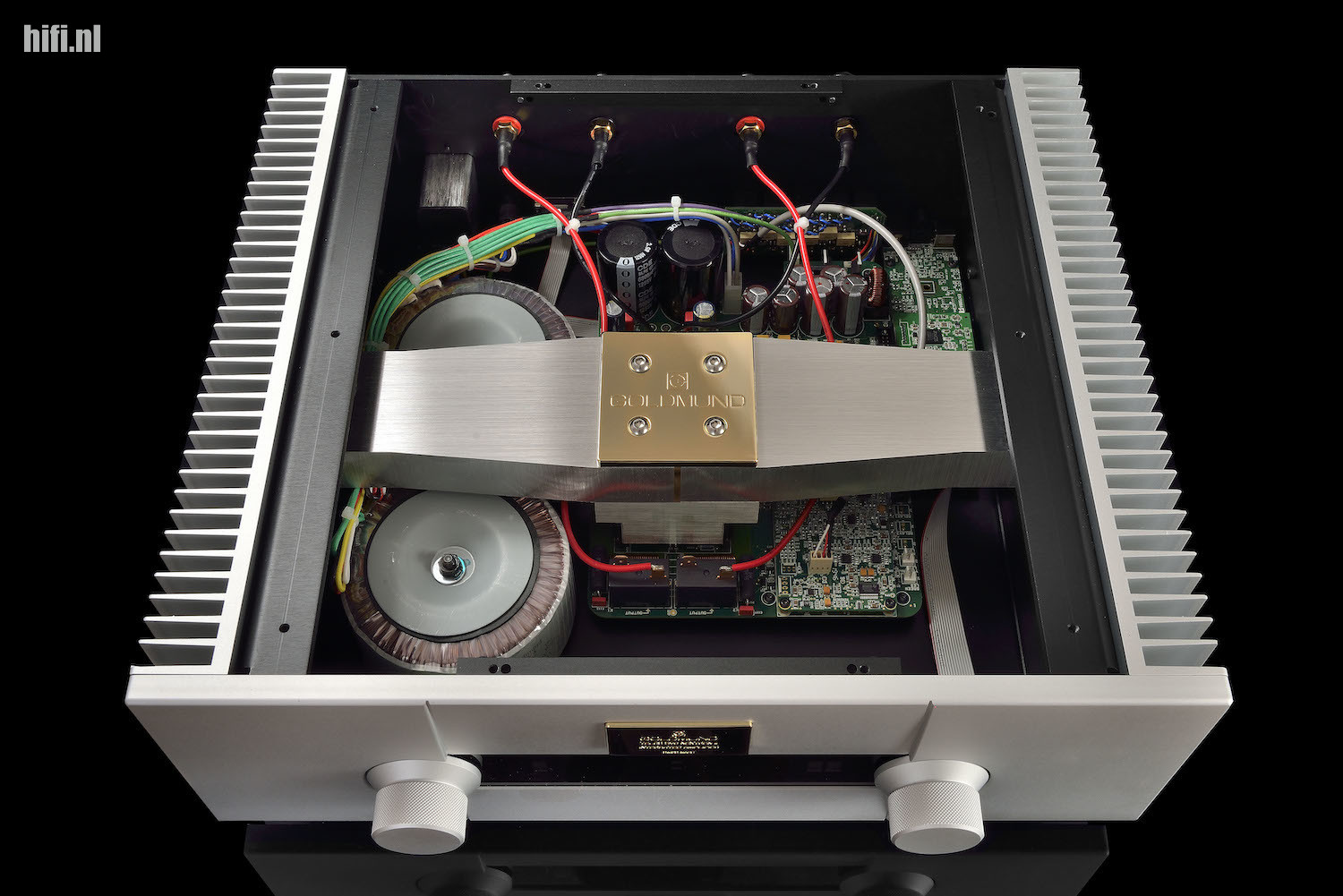 Another aspect that is new for the youngest version of the 590 NextGen is the extremely robust 'reinforcement bridge' positioned in the center of the housing. A design that includes a large Goldmund logo in polished gold, that is so beautiful and sturdy that it's almost a shame that it's hidden from view in everyday use. 
Although the high level of finish in this part of the amp, hidden from view, is of course not necessary, there is very much a very clear idea behind that ornamental grace. For example, on the previous Telos 590 Nextgen, due to the technical concept, the power transistors were not mounted against the left and right heat sinks in the usual way, but right on the base plate. The newly chosen construction ensures that the heat conductivity of the transistors is further improved. This robustness also makes a positive contribution to an even better mechanical decoupling. The next and final modification concerns the fully integrated mains switch at the rear. This is now also equipped with a specific mains filter, which should make a positive contribution to the reproduction quality. It looks stunning, but it serves a purpose as well.

Minimalistic yet complety
Keeping up with the current trend the Telos 590 II is equipped with a built-in DAC. And although Goldmund unfortunately doesn't offer a lot of specifics, this DAC does contain the latest Goldmund Alize D/A converter. A technological tour de force that allows it to process data up to 384 kHz/32 bit in PCM and DSD 64 and 128.
Moving on to the jet-black backside, I see that in addition to a USB, optical and coaxial connection, the DAC part also has five unbalanced (RCA) inputs for analog sources.
Compared to the simpler Telos 7, this reference model visually departs from its sibling most notably when looking at the front. It is not only a lot thicker and features different facets and 'gold' Goldmund logo, but also sports a beautiful amber display, indicating the volume level, source selection and the selected digital source. It is completed by a very solid aluminum remote control. On the receiver itself, only two rotary controls are visible, allowing you to adjust source selection and volume level. Finally, special mention should go to the remarkable feet of the device, four in tolal. Not the normally used damping rubber copies, but a wide metal ring with a huge, fortunately not too sharp spike. This very deliberately creates a hard coupling with the surface and is therefore part of the overall design concept. However, it is certainly advisable to use spike pads to protect softer surfaces.

Preparation
As is customary for all my reviews, the beautiful Telos 590 NextGen II has been used in all daily high-end tests for a period of several weeks. In practice this means that the Goldmund regularly took the place of the Zanden 6000 tube amplifier and Accuphase E-800. In addition to the Master Contemporary C, the impressive Estelon YB and Kudos Titan 707 were also used as speakers. Sources used include a Grimm MU1 streamer with Mola Mola Tambaqui DAC and the acclaimed North Star Design T192 mk II CD transport with the accompanying Extremo DAC. A quartet that for this test was assisted by the surprisingly good Aqua Audio La Diva CD transport, LinQ streamer and the La Scala tube DAC. Outside of the familiar cables from AudioQuest (Fire interlink, Dragon Source power cable and Diamond Ethernet), Siltech (Royal Signature Empress Crown interlink), Crystal Cable (Dreamline interlink), Nirvana Audio (PC+ power cable), Kemp (Reference power cable) and Essential Audio Tools (Current Conductor power cable), additional mention goes out to the new top cables from Furutech (NanoFlux powercord and AES/EBU) and Siltech (Ruby Mountain II powercord).
Listening impressions
In large part due to my previous experiences with the original Goldmund Telos 590 NextGen and the Telos 7 NextGen, expectations have been extremely high from the word go. Especially because I now know that Goldmund products boast quite a few unique features that some competitors are struggling with. 
Goldmund delivers. Starting with that typical 'burned-in' and smooth audio reproduction that you get straight out of the box. No need for half an hour of waiting for the amp to heat up and reach its full potential, because it gets there really rather quickly. The real bonus though is that very recognizable Goldmund sound signature. A reproduction that like no other allows many positive properties of principles such as class A, electron tubes and fast designs (which are often not class A) to merge into one organic whole in a very, very clever way.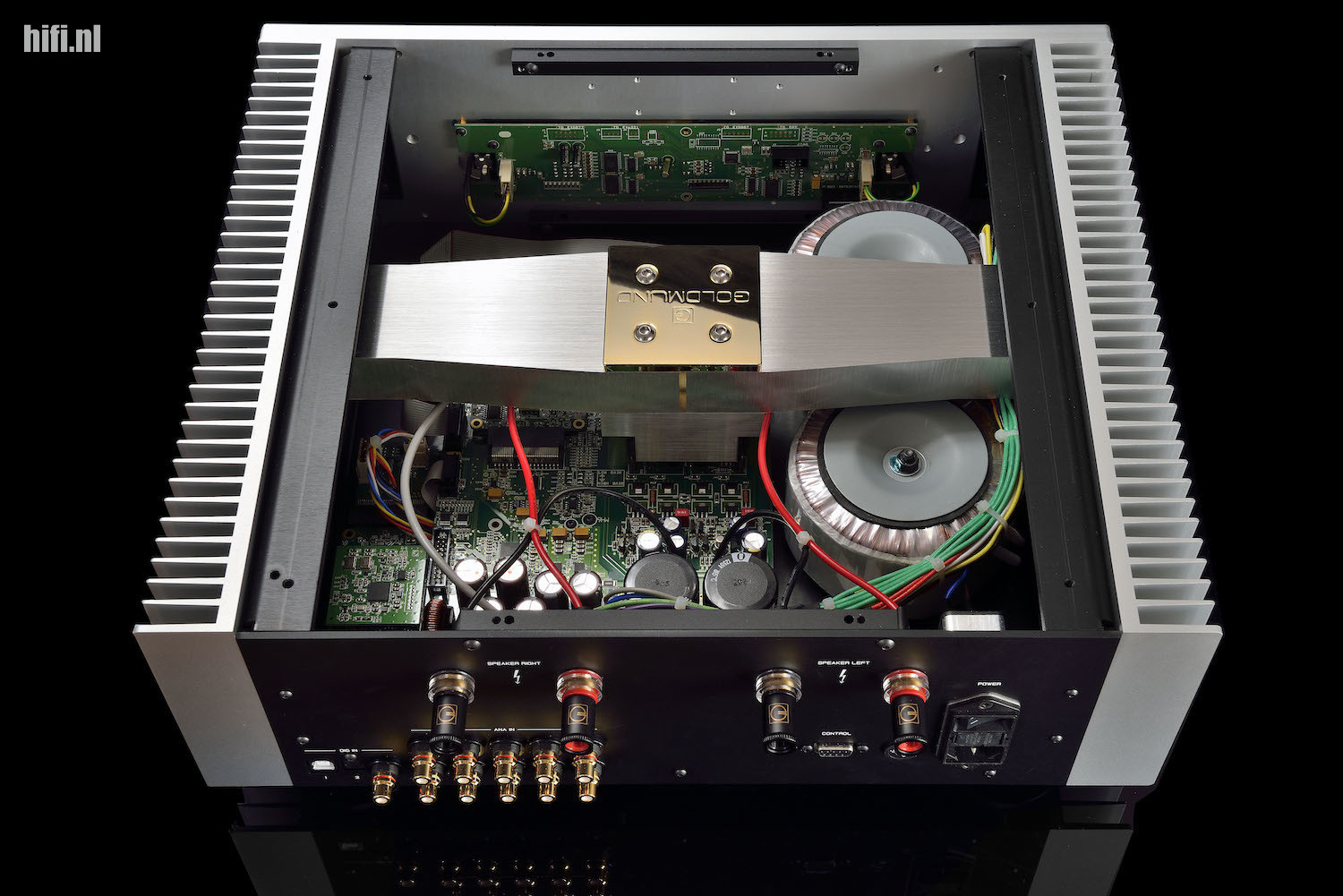 As a result, a Goldmund not only sounds smooth, supple, colorful and musical, but also naturally controlled, defined, detailed, transparent and accurate. Even though there are no huge changes between the new Telos 590 and its predecessor and I cannot do a side by side comparison in my listening room, I do feel that this last generation has grown in a number of aspects. Especially when it comes to tonal saturation, refinement and musical grandeur obvious gains have been made. As a result, a quality and self-evidence is achieved that usually characterizes only the really expensive best in breed amplifiers.
Built-in DAC 'not just a simple add-on'
Just like the Telos 7 Nextgen, the 590 NextGen Mk II has a special DAC all of its own. Usually these types of additions make amplifiers more versatile and more widely applicable, but the quality is more often than not exceeded by that of any good stand-alone unit. Goldmund does that a little differently too, though. Yes, it is possible to make use of the (more expensive) top DAC's available at Goldmund or any other high-end brand to go that extra mile. But in terms of mutual coherence and musical eloquence, this built-in one scores remarkably well. For example, timbres are even more saturated (without ever turning to dark) and there is this very attractive 'glow' hovering over your music. Moreover, one is allowed to escape that 'hifi sense' and gets to be disconnected from the feeling that you are a merely listening to a reproduction of the real thing.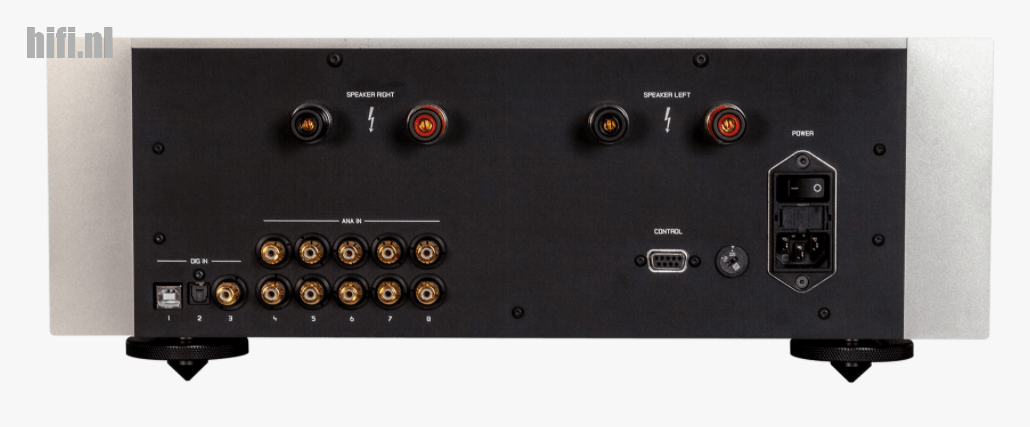 In other words, the Mk II comes close to the 'real thing', which is one of the biggest compliments you can give. The stereo image is nicely wide to well outside the speakers and is capable of reproducing height differences while being very convincing in terms of depth as well. The stereo image does not hang back or alternatively present itself to close to your seat when you alter the volume, which says a lot about the quality and the well-balancedness of the concept. In terms of tonal balance, this Telos 590 NextGen II belongs to the somewhat warmer and more saturated tuned amplifiers. Call it a light golden glow or the soft white of a 2700 on the Kelvin color temperature scale, quite uniquely combined with an above-average definition, power and musical insight.
Music, maestro
Although you'll rarely hear me discuss classical music by the famous masters (I have heard these melodies so often in many performances, that I usually find them less challenging), this time around I would like to make an exception. Reason for this turnaround is the latest TRPTK album by (solo) pianist Yukiko Hasegawa, a Japanese musician whom with her enchanting virtuosity as well as a recording that belongs with the very best on piano – Eternal Longing – is set to earn the highest praises.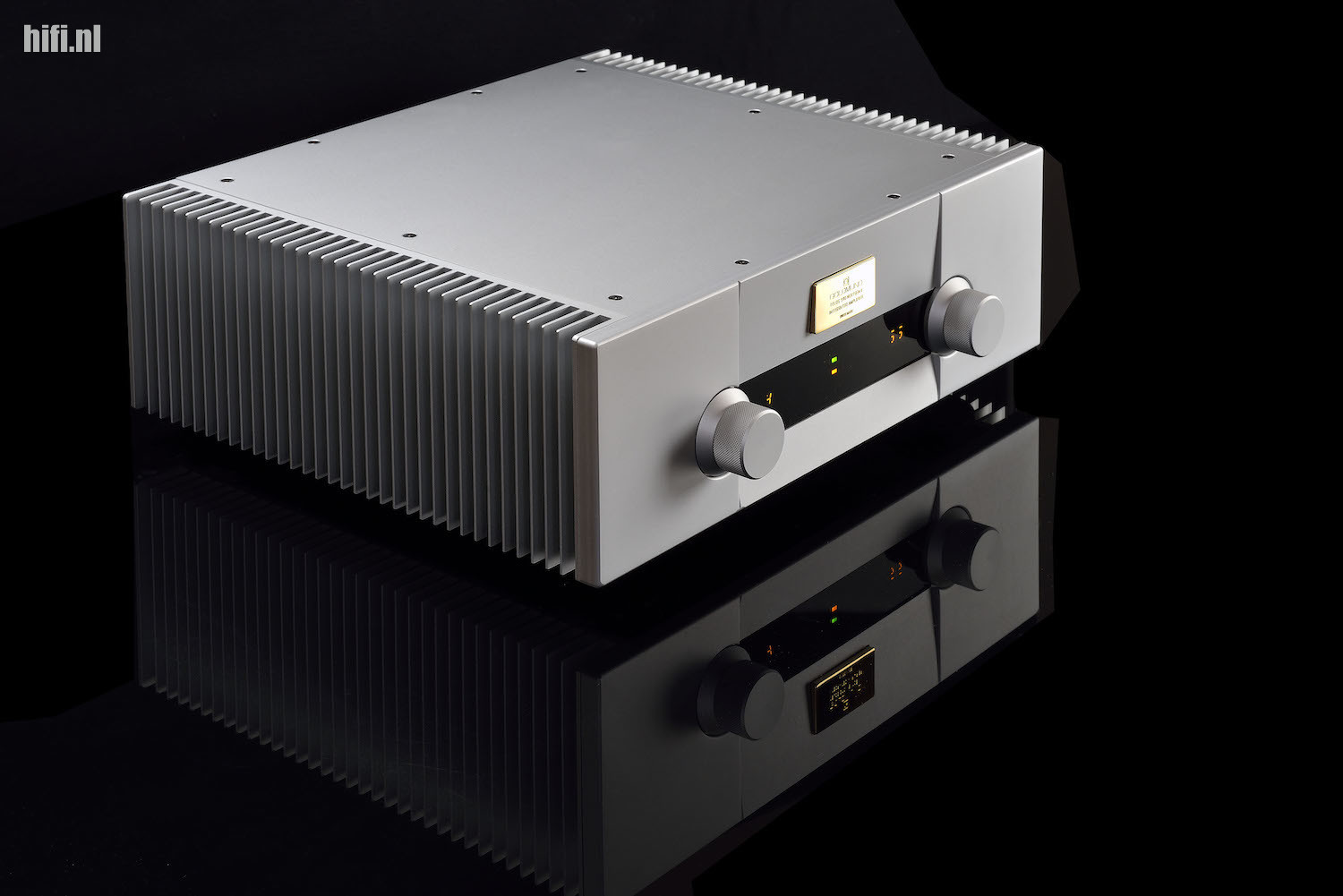 The album, featuring 14 tracks and including works by composers such as Beethoven, Franck and Schumann, offers to phenomena in particular I would like to highlight. The first is that a special grand piano by designer Chris Maene is used. That grand piano consists of a design in which all strings are stretched parallel instead of crosswise (like all modern grand pianos) in the frame. Because of this, this instrument has a beautifully full and rich tonal balance, combining softness and maximum feeling while maintaining tightness and transparency.
Secondly, recording & mastering engineer Brendon Heinst of TRPTK once again recorded the album in true 32(!) bit resolution in the highest DXD format, with a downright spectacular end result. As the Goldmund DAC is able to reproduce this very high format at the same quality, the Chris Maene grand piano is especially lifelike, right there in the listening room. The lower registers offer a transparency, sonority and deepening of timbre that I have never heard before with a grand piano. The part of the Goldmund amplifier in all this is the passing on of the enormous headroom, the finest gradations in intonation and the maintenance of the overall enchantment. The intoxicating magic of Yukiko does the rest.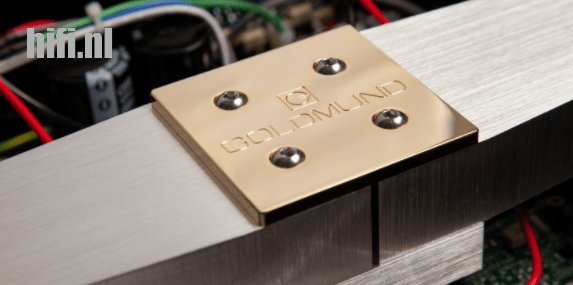 Let's swing!
Of a totally different order is the album Reference Recordings I by Dutch guitarist Emiel Scholsberg. This live production from 2017 contains wonderfully spontaneous wailing jazz rock in a small line-up. When I start with the swinging Help The Poor I can hear the other side of this Goldmund design very clearly. Pointed guitar riffs, repeating bass runs, a sultry singing voice and splashing drums. Together with the audience, the Telos 590 NextGen Mk II creates a sweltering live atmosphere in all its grandeur, power and finesse.
As far as I'm concerned, the sultry version of My funny Valentine is the undisputed highlight of this album, where the slow groove and huge pulses of the bass drum are synonymous with the almost infinite headroom of this potent amp. But the most important thing of all is that this top-Goldmund manages to bring the exact appropriate atmosphere to every song, right from the first second. That seems obvious, but it is not. Versatility galore.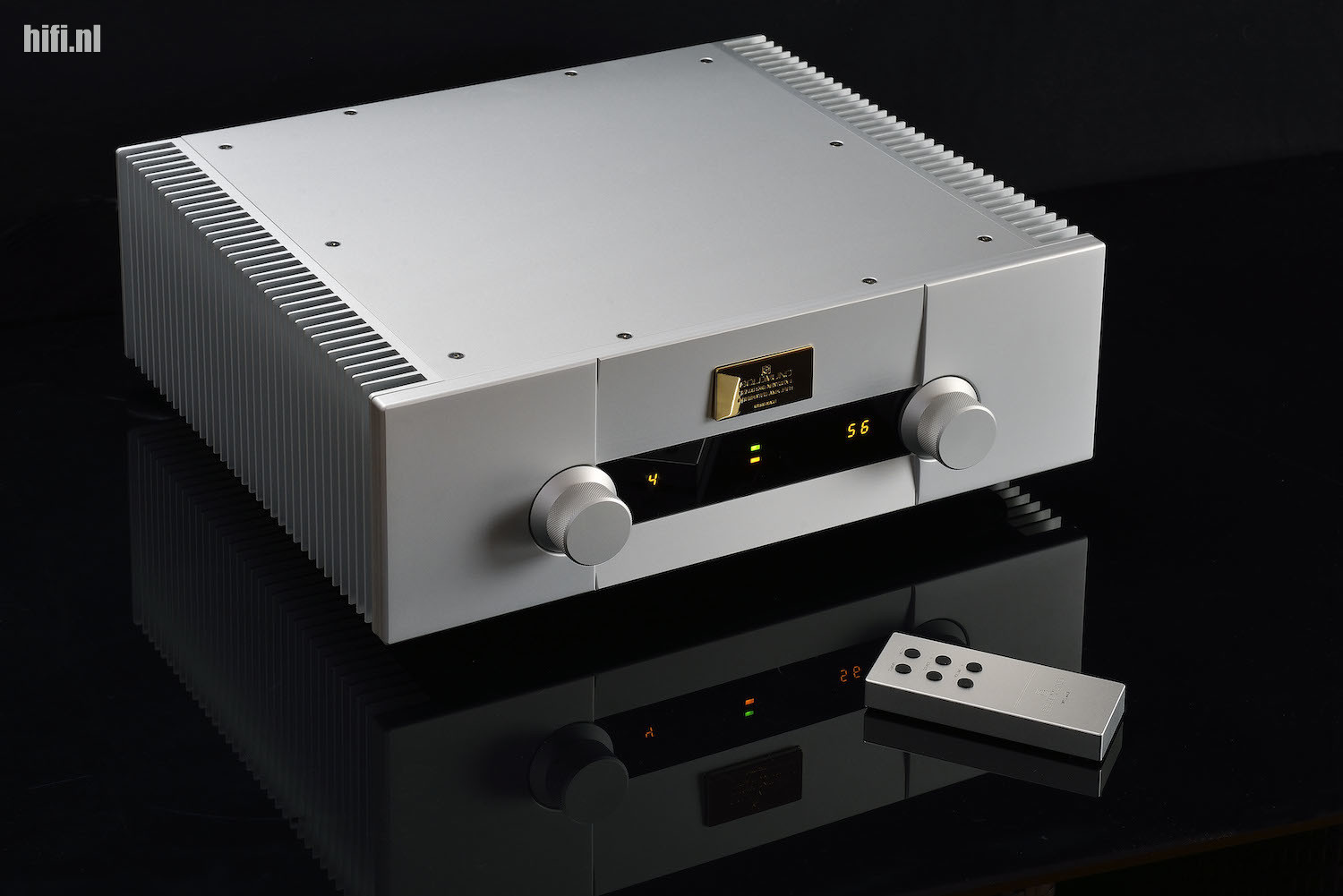 Conclusion
A very special and pleasantly sober integrated amplifier, where the most attention is clearly paid to where it should be: the unparalleled sound quality. The amp boasts a super solid construction and is problem-free in its operation to boot, but the typical Goldmund quality of audio reproduction is here in spades. Add to that the ability to drive virtually any speaker without any preference for a particular type of music, and it becomes increasingly clear what makes this top high-end amplifier so unique. The only remark I can make at the end of this test is that people who like a more bald and, for example, highly accentuated sound, might experience this Goldmund as too organic and tonally saturated. But even then, the beautiful coherence can be experienced as so enchanting and magical that everything else is instantly forgotten. A future classic.
Goldmund Telos 590 NextGen II
€ 28.750 | www.puuravd.com